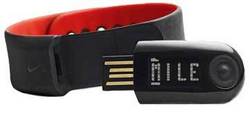 The Running Center is excited to be among the first retailers nationwide to have the SportBand from Nike available to our customers
Carlsbad, CA (PRWEB) May 1, 2008
The Running Center announced today that they are among the first retail stores to carry the all new NikePlus SportBand. The SportBand is a device that you wear on your wrist that gathers information from the NikePlus Sensor placed in your shoe. It then gives you live stats about your run, including distance, time, pace and calories burned.
Even more exciting than the information that you receive during your run, the SportBand plugs into the USB port of your computer after your workout and automatically logs your run data to the NikePlus website, along with all of the other training tools available on NikePlus. This is a phenomenal new training tool that can help everyone, from the beginner to the marathon runner.
The SportBand kit sells for $59 and includes the wrist band, the SportBand unit and the NikePlus Sensor that goes in your shoe. The first units are expected to arrive the first week in May and pre-orders are being accepted now.
The Running Center carries a wide variety of Nike Running Shoes that have the special compartment built in for the sensor, including some hard to find styles like the Hayward, Air Zoom Hot Shot and the Air Equalon.
"The Running Center is excited to be among the first retailers nationwide to have the SportBand from Nike available to our customers" says Nancy Comer, owner of the Running Centers. "The SportBand is a phenomenal new technology that gives runners of all levels new tools to make their running experience better".
About Running Center (http://www.runningcenters.com)
The Running Center is a store all about running, featuring their online store with all of their products found in the retail stores (4 stores in San Diego and Riverside Counties including Carlsbad, Temecula, Redlands, and Victorville California). The online and retail stores are staffed by runners who understand what their customers need. They sponsor a racing team and have also sponsored a number of races, including the Carlsbad Marathon.
About Nike+
With Nike+, runners never have to train alone again. Nike+ enables footwear to talk to an iPod nano or Nike+ SportBand, giving instant performance information and real-time feedback during a run. Like a personal coach or training partner, Nike+ puts this information at runners' fingertips, in the process creating a Nike+ revolution. As of February, 2008, Nike+ members have run over 50,000,000 miles, logged over 14,000,000 runs and issued over 450,000 challenges. Nike+ has also created the world's largest running club at nikeplus.com, a global running community where Nike+ members can log their run data, track their progress, utilize training tools, and connect with other members all over the world.
About Nike
NIKE, Inc. based near Beaverton, Oregon, is the world's leading designer, marketer and distributor of authentic athletic footwear, apparel, equipment and accessories for a wide variety of sports and fitness activities. Wholly owned Nike subsidiaries include Converse Inc., which designs, markets and distributes athletic footwear, apparel and accessories; Cole Haan Holdings Incorporated, which designs, markets and distributes luxury shoes, handbags, accessories and coats; Umbro Ltd., a leading United Kingdom-based global football (soccer) brand; and Hurley International LLC, which designs, markets and distributes action sports and youth lifestyle footwear, apparel and accessories.
###