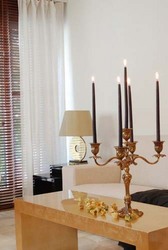 The process was much shorter than working with a client in person…
(PRWEB) May 8, 2010
New York based interior designer Val Nikitin and his client furnish apartment in Zurich using up-to-date technology.
A client who travels as often as three weeks per month wasn't able to schedule regular meetings with local designer. She met Val Nikitin in her trip to New York and hired him to decorate her Swiss home via internet.
During online sessions client showed Nikitin examples of furniture and artwork she owned, as well as sending him pictures of existing apartment and floor plan. He sent her sketches and ideas for furniture and lighting options, helping client visualize the end result by illustrating furnished room in hand-drawn perspectives. Using her laptop and BlackBerry client was available to reply anytime and anyplace. The process was much shorter than working with a client in person, because instead of setting up live meetings, designer and client were able to quickly pass ideas back and forth.
The Designer ordered most of furniture from European dealers. When it arrived, client placed it exactly where it was shown on the furniture plan. If client had questions, she sent Nikitin iPhone pictures and he suggested adjustment.
"The Modern Life: Long Distance Decoration" an article that recently appeared in ElleDecor.com, is about the above project in Zurich.
About Val Nikitin
Val Nikitin is Ukrainian-born Architect and Interior Designer work in New York since 1993, specializing in Hi-End residential projects. For almost eight years he worked as Architectural Designer for Sills Huniford Associates, a well known interior design firm with a list of high profile clients.
Nikitins experience includes a variety of work from the conceptual architectural design to custom furniture, from apartment renovation in Manhattan to estate on Long Island shore and private house in California. He was also involved in hospitality projects such as the renovation of five star hotels "The St. Regis" in New York and Washington DC, and "The Connaught" in London.
The list of his own projects includes a landmark town house in Manhattan, and a number of apartments in New York and Zurich.
In 2007, Nikitin achieved Diploma on International Architectural and Interior Design Competition in Moscow for his project in Manhattan. He has a master architectural degree. Currently Val Nikitin a principal in his Manhattan based firm.
###