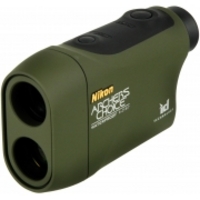 Bringing archers, and all outdoor sports participants, the best value for their dollar has always been a goal, and we continue to deliver
Melville, NY (Vocus) September 15, 2010
Nikon Inc, the premier name brand in optics, is making September a month of savings to remember. For eleven days only, archers that demand finely crafted rangefinders can receive a $50 mail-in rebate directly from Nikon on the rugged Archer's Choice rangefinder. The promotion has been declared "September Slam", and bow enthusiasts across America are eager to take advantage of such an excellent rebate. This Nikon promotion is intended on taking consumers to the next level of archery, saving money each step of the way.
"Bringing archers, and all outdoor sports participants, the best value for their dollar has always been a goal, and we continue to deliver," states Jon LaCorte, senior product marketing manager Nikon Sport Optics. "The September Slam promotion is a short period of time to bring home even more value."
When utilizing a bow, it is absolutely necessary to hit your target on mark the first time around, and the slope feature of the Nikon Archer's Choice range finder guides you through this real-world scenario with ease. The Archers Choice combines Nikon's trademark speed, simplicity, and accuracy with innovative ID technology designed to bestow confidence in a hunter to take that shot.
About Nikon: Nikon Inc. is the U.S. distributor of Nikon sport optics, world-renowned Nikon 35mm Cameras, Digital Cameras, Speedlights, and Accessories, Nikkor Lenses and Electronic Imaging products. For more information on Nikon's full line of Riflescopes, Binoculars, Spotting Scopes, Fieldscopes and Laser Rangefinders, please contact: Nikon Sport Optics, 1300 Walt Whitman Rd., Melville, NY 11747-3064, or call 1-800-645-6687. http://www.nikonpromo.com
###