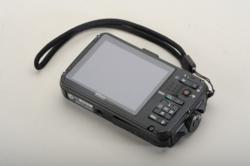 Denver, CO (PRWEB) February 11, 2013
Find My Price recommends Nikon Coolpix AW100 as the best product at online retailers.
According to their report, the digital camera is highly resistant to extreme weather conditions and outdoor factors. This conclusion was reached after the camera has been subject to various performance tests and the review will be published on http://www.findmyprice.net.
Experienced reviewers have tested the physical endurance of the compact camera. Even though the device was submerged underwater for 12 hours and subjected to a series of incidents, the AW100 digital camera continued to function properly.
Analysts have thus, confirmed that the product is, indeed waterproofed up to a depth of 33 feet, shock proofed to 5 feet and freeze proofed to 14 degrees Fahrenheit.
Nikon designed the AW100 model for sport practitioners and outdoor lovers. The camera's main asset is the compact and well-sealed carcass, but the software settings are not as advanced as the ones on high-end digital cameras. The device has a 16 Megapixel sensor that delivers great quality pictures in full sunlight; pics illustrating underwater or shadowy scenes may be slightly pixelated, but the differences will only be noticeable to pixel peepers.
Nikon understood that most AW100 customers will most likely want to film the wild nature scenes they discover on their trips, which explains why the device has been provided with very good video capabilities. The digital camera can record 1080p full HD movies with stereo sound the quality of the images being good both in high and low light conditions.
There are many other settings that will most likely be useful to potential AW100 customers. The built-in GPS gives users the possibility to geolocate their pictures as soon as they snap them. Pics can be modified with the help of the In-Camera Image Editing for better results and interesting effects.
The design is a true reflection of the device's purpose: the camera is rugged on the outside because the components have to be protected against rough conditions. AW100 measures 2.6 x 4.4 x 0.9 inches in height, width and depth, whereas the overall weight (battery and SD memory card included) is only 6.3 ounces. These features make the camera even more appropriate for long lasting activities in the open air.
Find My Price will publish similar digital camera reviews and product recommendations every day on the company's website. Analysts working for the tech website aim to deliver the most accurate reviews, price reports and product descriptions for the latest devices.