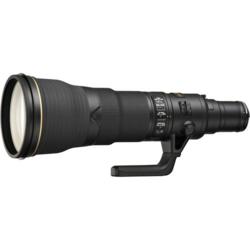 NYC, NY (PRWEB) January 29, 2013
B&H Photo Video is pleased to share with professional photographers the launch of the Nikon AF-S NIKKOR 800mm f/5.6E FL ED VR super telephoto fixed focal length lens with the included dedicated 1.25x Teleconverter.
This lens has been developed in order to strengthen the NIKKOR lineup of super-telephoto lenses. It will boast the longest focal length of any NIKKOR autofocus lens, and will be best suited to capture of a wide variety of decisive outdoor scenes, from sporting events to wildlife. In addition to its superior optical performance, the lens will offer dust and water resistance.
While the new Nikon 800mm Super Telephoto lens might be pricey, it is the longest focal length of any Nikkor lens to date. It also includes a dedicated 1.25x teleconverter, which turns it into a 1000mm lens while taking away one stop of light.
The 800mm Nikkor lens construction integrates two fluorite lens elements to help reduce the overall weight of the lens while also offering chromatic aberration-reduction benefits. Also aiding in the reduction of chromatic aberration is the inclusion of two ED (extra-low dispersion) elements that furthermore provide an increase in image sharpness, clarity, and color fidelity.
A Nano Crystal Coat is applied to lens elements to minimize surface and internal reflections and ghosting for greater image clarity and contrast. Built-in Vibration Reduction image stabilization helps to lessen the appearance of camera shake by up to four shutter speed stops, which greatly benefits this lens' use in low-light conditions and fast-paced photography. Additionally, an electromagnetic aperture mechanism is integrated into the lens design to provide greater exposure control stability that is especially beneficial when working with faster continuous shooting rates.
The Nikon AF-S Teleconverter TC800-1.25E ED is also included with the lens to further extend the effective focal length to 1000mm f/7.1. This teleconverter incorporates an ED element into its design to maintain the high image quality achieved by the lens alone. Additionally, the electromagnetic aperture control is fully supported when the teleconverter is in use.
Nikon 800mm Product Highlights
NIkon F Mount
FX Format Compatible
DX Equivalent: 1200mm
Two Fluorite Lens Elements
Nano Crystal Lens Coating
Two ED Lens Elements
Silent Wave Motor
Vibration Reduction up to 4 Stops
Rotating Tripod Collar
Included Dedicated 1.25x Teleconverter
At the same time Nikon also announced the compact, lightweight AF-S NIKKOR 18-35mm f/3.5-4.5G ED ultra-wide-angle zoom lens, designed to assist FX-format photographers in capturing their subjects with clarity and precision.
The new AF-S NIKKOR 18-35mm f/3.5-4.5G ED lens is a wide-angle zoom lens that is compatible with FX-format sensors and offers magnification up to1.9x. This lens incorporates three aspherical elements and two ED elements into its design, to offer a reduction in chromatic aberrations throughout the zoom range, while also providing high image sharpness and color fidelity.
The SWM mechanism provides quiet, precise autofocus operation that suits HD video recording as well as photographing fast-paced subject matter. Beside fast autofocus performance, manual override is also available for instant switching to manual focus for fine-tuning of focus or for more creative focus placement. This lens's optical attributes are further enhanced by its lightweight construction, weighing just 13.6 oz, making it an ideal lens for traveling and everyday shooting situations.
Nikon AF-S NIKKOR 18-35mm f/3.5-4.5G ED Product Highlights
FX Format Compatible
27-52.5mm Equivalent on DX Format
Two ED Lens Elements
Three Aspherical Lens Elements
Silent Wave Motor and MF Override
Internal Focusing Mechanism
Rounded 7-Blade Aperture
Nikon F Mount
Both of the new NIKKOR lenses are available for pre-order at B&H
Read and learn more detail information about the Nikon AF-S NIKKOR 800mm f/5.6E FL ED VR and Nikon AF-S NIKKOR 18-35mm f/3.5-4.5G ED lenses at BH InDepth
About B&H Photo Video
As the world's largest source of photography, video and audio equipment, B&H Photo-Video is known worldwide for their attentive, knowledgeable sales force, and excellent customer service, including fast, reliable shipping. Visitors to the website can access a variety of enlightening articles and educational videos. B&H has been satisfying customers worldwide for close to 40 years.