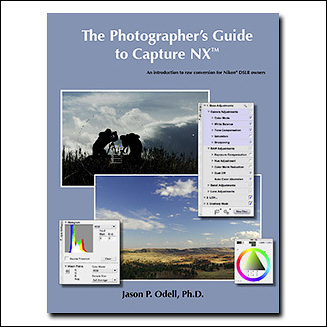 This book allows photographers to sit down with actual RAW files and process them in a step-by-step manner
Colorado Springs, CO (PRWEB) October 11, 2006
With Nikon's recent release of their full-featured raw processor and image editor, Nikon Capture NX™, Nikon DSLR owners gained an exciting new workflow option. Now they have an authoritative companion tutorial to go with their software, in the form of a new eBook by photographer Jason P. Odell, Ph.D.
The Photographer's Guide to Capture NX™ is a comprehensive resource on all things related to Capture NX. The easy to follow tutorial takes readers through the logical steps necessary to quickly and easily convert their Nikon NEF files into stunning images using Capture NX. According to the author, "The Photographer's Guide to Capture NX will simplify the workflow of anyone who uses Capture NX to convert their raw images and take the confusion out of using RAW."
The Photographer's Guide to Capture NX™ weighs in at over 180 pages in a fully bookmarked, indexed PDF file. Owners can print pages directly from the book for their personal use. Each chapter is illustrated with dozens of screen shots, giving readers simple, step-by-step instructions on everything from opening files to noise reduction, sharpening, and printing. In addition to the book, readers are treated to a full suite of ready-to-use settings files for Capture NX™, and can download all the actual NEF files used in the tutorials from a special users-only website.
According to Dr. Odell, photographers tend to be strong visual learners. "This book allows photographers to sit down with actual RAW files and process them in a step-by-step manner", says Dr. Odell. "Because the book utilizes the latest PDF technology, interactive bookmarks and a thorough index allow readers to quickly find the topic they are interested in and learn it."
Even professional photographers can learn something from Dr.Odell's eBook. "With brief and cogent explanations and excellent illustrations, this book is a an essential companion for Capture NX!", says professional photographer Tony Sweet.
For the amateur photographer with a new digital camera, The Photographer's Guide to Capture NX™ dispels the notion that a RAW workflow is something to shy away from. According to one reviewer, "This [eBook] is a significant help to photographers of all levels who want to increase the quality of their results with Capture NX." The book's chapters are written in the logical order of a raw processing workflow, starting with the camera settings and ending with printing.
The Photographer's Guide to Capture NX™ is available through Luminescence of Nature Photography, online at http://www.luminescentphoto.com/capturenx.html
Luminescence of Nature Photography, founded in 2004, is the home of photographer Jason P. Odell, Ph.D. Online at http://www.luminescentphoto.com, Luminescence of Nature is a well-respected source of photography related articles, stock images, and nature photography galleries. Dr. Odell is also the co-host of the popular biweekly photography podcast "The Image Doctors" hosted by the international Nikon users' community, Nikonians.org.
Nikon, Nikon Capture, and Capture NX are all registered trademarks of Nikon Corporation, Japan.
###