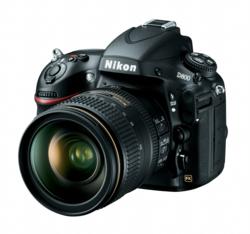 B&H Photo Video is excited to share with photo enthusiasts the release of the Nikon D800 DSLR camera
New York, NY (PRWEB) February 07, 2012
B&H Photo Video is excited to share with photo enthusiasts the release of the latest exciting DSLR camera from Nikon—the D800— which features a host of updates and improvements.
B&H Photo has announced that they are currently accepting pre-orders for the Nikon D800 DSLR camera.
Nikon FX-format CMOS sensor with 36.3 effective Pixels
The Nikon D800 renders levels of texture, nuance and detail to photography that, until now, have been the exclusive domain of the complicated medium-format system. Define every eyelash, every line in tree bark, and every shimmer of light. Savor the exceptional depth in your still images — with the astounding 36.3 effective megapixels, you can. Enlarge them as big as A1 poster-sized prints (23.4 x 33.1 in./59.4 x 84.1 cm) at 200 dpi, or crop aggressively to reach the composition one desires, all without sacrificing the detail and tonal range of the original. In order to maintain clean, high-resolution images, 14-bit A/D conversion within the sensor and a high signal-to-noise ratio deliver phenomenal images in a diverse array of situations.
The image sensor's incredible potential does not stop with photography, either.
For cinematographers ready to put their exceptionally sharp NIKKOR lenses into action, the D800's 36.3 effective megapixel data is efficiently processed for exquisite 1080p broadcast quality video at 30p. Combining both high-resolution performance and a wide ISO sensitivity range has finally become a reality. Nikon engineers have developed intelligent new methods to manipulate light transmission to the sensor's photodiodes; from the optical low-pass filter and on-chip gapless micro lenses to the image sensor's internal design, every measure has been taken to maximize and improve light transmission in order to deliver crisp, brilliant images with significantly less noise. All this is possible under a wide variety of lighting conditions, enabling you to get the most out of your NIKKOR lenses.
A full cinematic experience
Filmmakers, multimedia professionals and event photographers—record Full HD 1080p at 30/25/24p or 720p at 60/50p in AVC format. Produce to your exacting vision when working in manual mode, controlling aperture, ISO, AF and shutter speed. Record uncompressed files via HDMI to an external recording device via HDMI. Widen production perspective using either Nikon FX or DX lens formats at Full HD 1080p and 16:9 aspect ratio. Attach headphones and check audio levels or monitor input via peak audio meters as displayed on the camera's LCD monitor. Microphone sensitivity can be adjusted in up to 20 steps. Remotely start and stop video. Simultaneously Live View footage on the camera's LCD monitor and external monitor during recording are possible.
Render every megapixel with precision
Fast, precise 51-point wide area coverage
Precise AF detection is critical to sharply render every pixel of the D800's massive resolution count. An improved 51- point AF system with 15 Cross Type AF sensors, versatile AF area modes and superb AF detection in even the dimmest lighting deliver immediate, pinpoint focus. Fast shot-to-shot time, full resolution frame rate up to 4 fps, 6 fps in DX crop mode using MB-D12 Multi-Power Battery Pack and ultra fast CF and SD card write times. For more productive workflow, high-speed data transfer using USB 3.0 is realized. For demanding professionals, the D800 responds immediately and precisely.
EXPEED 3 image processing
Nikon's EXPEED 3 technology extends and assures breathtakingly rich image fidelity and reduces noise, even at high ISO's. EXPEED 3 is so powerful that it handles data-intensive tasks such as Full-HD video recording at 30p with ease.
Expand dynamic range with built-in HDR
Create a single image revealing an extremely wide dynamic range, but with less noise and rich color gradation than ever before. Combine two exposures at up to 3EV.
Read more on Nikon D800 and D800E at BH InDepth
About B&H Photo Video
As the world's largest source of photography, video and audio equipment, B&H Photo-Video is known worldwide for their attentive, knowledgeable sales force, and excellent customer service, including fast, reliable shipping. Visitors to the website can access a variety of enlightening articles and educational videos. B&H has been satisfying customers worldwide for over 35 years.
###