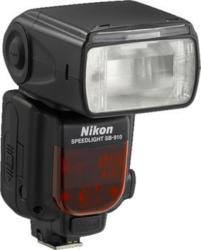 B&H Photo is excited to share with the photography enthusiasts the release of the newest Nikon SB-910 Speedlight.
New York, NY (PRWEB) December 01, 2011
B&H Photo Video is excited to share with the photography industry the release of the newest Nikon SB-910 Speedlight.
B&H expects the first shipments of Nikon's SB-910 Speedlight before the end of the year. Designed as a replacement for Nikon's very popular SB-900 Speedlight, the SB-910 features a list of significant upgrades.
The Nikon features quicker recycling times (about 3 seconds with AA alkaline batteries and about 2.5 seconds with NiMH rechargeable batteries), extended battery life, and an improved thermal-protection system that allows for slower recycling times, rather than a complete shutdown of the flash, when internal temperatures climb too high.
Other features found on Nikon's SB-910 Speedlight, which can be used wirelessly with up to four groups of Nikon Speedlights, include a center-weighted zoom head that automatically adjusts flash-angle coverage to match the FOV of a full-frame 17 to 200mm lens (or 25.5 to 300mm APS-C format lens). There's also a multi-point AF assist illuminator that covers the FOV of a 17 to 135mm lens with 51 AF points, or a 24 to 135mm lens with 39 focus points.
Additional improvements over previous Nikon Speedlights include a redesigned, friendlier user interface, and a set of snap-on tungsten and fluorescent filters that automatically adjust the camera's white balance settings when attached. There's also an optional set of water guards which maintains weather-resistance standards for Nikon D3 series, D300 series and D700 camera bodies. B&H is currently accepting orders for the SB-910. It should be shipping sometime in December.
You can Facebook Fan us for the latest updates.
Follow B&H Photo Video at Twitter.
Read the B&H Photo Indepth Speedlight article.
About B&H Photo Video
As the world's largest source of photography video and audio equipment, B&H Photo-Video is known worldwide for their attentive, knowledgeable sales force, and excellent customer service, including fast, reliable shipping. Visitors to the website can access a variety of enlightening articles and educational videos. B&H has been satisfying customers worldwide for close to 40 years.
# # #