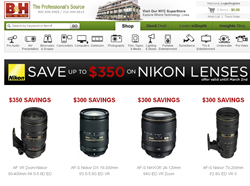 Nikon photography enthusiasts will be motivated to take advantage of this new Nikkor lenses instant savings rare and exciting opportunity.
New York, NY (PRWEB) February 18, 2013
Nikon announced over the weekend, for the first time in many years Nikon is discounting many popular lenses individually
with discounts of up to $350. Nikon enthusiasts understand how rare and exciting this opportunity is.
Nikon photography enthusiasts will be motivated to take advantage of this new Nikkor lenses instant savings rare and exciting opportunity
B&H Photo Video is pleased to share with photography professionals and enthusiasts [New Instant Savings of up to $350 on Nikon Nikkor Lenses.
Nikon Nikkor Lenses Instant Savings Include.
Nikon AF-S Nikkor 70-200mm f/2.8G ED VR II lens features an innovative Vibration Reduction (VR) system that allows handheld telephoto zoom shooting even in poorly lit conditions. The VR system minimizes image blur caused by camera shake, and offers the equivalent of shooting at a shutter speed 4 stops faster than what the camera is set for.
The Nikon 70-200mm f/2.8G ED VR II lens is the perfect lens for low-light, sports, fashion, portraits and other images that require distance between the photographer and subject.
Although the Nikon AF-S NIKKOR 24-120mm f/4G ED VR zoom lens is designed primarily for use with FX-format D-SLR cameras, it's equally at home on any DX-format D-SLR camera. As a standard 5.0x zoom on an FX-format camera body, it's perfect for landscapes, portraits, and weddings - it's an excellent choice for a perfect take-along-everywhere lens. On a DX-format camera, the focal length gets a 1.5x bump that turns it into a formidable longer-range optic with enough wide angle for all but the widest of shots.
The AF-S 24-120 ED VR is a versatile imaging tool with a constant maximum aperture of f/4.0 - this enables photographers to maintain exposure settings throughout the entire zoom range. For those critical focusing-moments - the M/A focus mode switch allows the shooter to quickly change between manual and autofocus modes.
The Nikon AF-S Nikkor 24-70mm f/2.8G ED autofocus lens is a fast aperture standard zoom lens designed for photojournalism and general photography. Optimized for edge-to-edge sharpness on both the Nikon FX (full-frame) and DX-format image sensors, this lens also includes two ED (Extra-low Dispersion) elements and PGM aspherical lenses that help control chromatic aberrations while enhancing sharpness and contrast, even at the widest aperture settings.
The Silent Wave Motor (SWM) feature provides swift autofocus with superior accuracy and ultra-quiet operation. This G-type lens does not feature an aperture ring on the lens body, resulting in a lighter and more compact lens. Aperture changes are designed to be done via the camera's command dial.
About B&H Photo Video
As the world's largest source of photography, video and audio equipment, B&H Photo-Video is known worldwide for their attentive, knowledgeable sales staff, and excellent customer service, including fast and reliable shipping. Visitors to the website can access a variety of enlightening articles and educational videos. B&H has been satisfying customers worldwide for nearly 40 years.