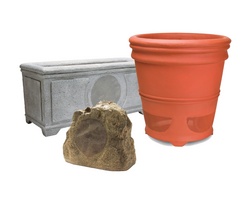 dual voice coil woofer and two 1
MIAMI (PRWEB) May 8, 2008
"As more people focus on entertaining outside of the home during the upcoming spring and summer seasons, we are extremely pleased to introduce our latest offerings in the Niles weatherproof loudspeaker line," said Frank Sterns, president of Niles.
"With the RS6Si weatherproof rock loudspeaker, we have developed a smaller version of our discreet yet stylish GeoRealistic outdoor loudspeakers which provides both a natural look and sound. The PB6si and PS6si series outdoor planter speakers blend nicely with any outdoor environment, including pools, patios, porches, decks and gardens, with the superb sound quality that is so closely associated with Niles," Sterns added.
Niles RS6Si series' rock cabinet design is crafted to look like a real rock and incorporates the use of integrated textured aluminum grilles. Featuring Niles proprietary injection molded TCC 6" woofer and two 1" Tetron tweeters, the RS6Si can be operated in three modes: monaural, traditional two-speaker stereo or single speaker stereo input -- "Si" -- where both left and right channels play simultaneously through the dual voice coil woofer and both tweeters to provide a stereo image. The RS6Si series utilizes Niles' unique Cone Forward(TM) design, which position the drive unit as close to the grille as possible, ensuring a transparent, open and dynamic sound with precise stereo imaging without the hollow colorations found in traditional rock speaker designs.
With their classic, elegant designs, the PB6Si and PS6Si blend perfectly into any outdoor setting and provide uncompromised sound thanks to Niles' proprietary, 6.5" dual voice coil woofer and two 1" fluid-cooled Tetron tweeters. Designed to handle the harshest of environments, each model is made of fiberglass and is protected by a UV-resistant paint. Drainage holes ensure plants will stay healthy, while screens allow for acoustic transparency and keep bugs and debris at bay. The discrete loudspeakers are wired for one-speaker stereo input or two-speaker stereo mode and a trouble-free connection is insured by dual 3" burial-rated connection cables with waterproof wire-nuts.
Designed to handle the harshest of elements, the Niles RS6Si, PB6Si and PS6Si series are completely weatherproof. All employ double seals on the woofer, tweeter and bottom cover and are tested to exceed US Military Standard 883 (MIL-STD-833) for salt fog, operating temperature, storage temperature, UV exposure and humidity.
Attesting to its commitment to provide the highest-quality, most reliable products available, Niles offers its new Limited Lifetime Warranty with all loudspeakers, including the RS6Si, PB6Si and PS6Si series.
Shipping now, the RS6Si series GeoRealistic(TM) weatherproof rock loudspeaker and the PB6Si and PS6Si series outdoor planter speakers are available through Niles factory authorized dealers.
Talking Points
-- Niles has announced that the RS6Si series GeoRealistic weatherproof rock loudspeaker and the PB6si and PS6si series outdoor planter speakers are now shipping
-- Featuring rugged, weather-resistant construction and Niles' legendary, high-performance sound, the RS6Si, PB6Si and PS6Si represent latest in the company's impressive line of outdoor loudspeakers
-- The RS6Si, one of three models in Niles' GeoRealistic rock loudspeaker line-up, is available in granite, speckled granite, sandstone, coral and an all-new shale brown finish
-- The PB6Si planter box loudspeaker and PS6Si planter loudspeaker, available in a classic terracotta and recently-introduced weathered concrete finish, are powerful, all-weather speakers that are capable of housing live plants and flowers
-- All products come with Niles' new Lifetime Limited Warranty
Corporate Information
Miami-based Niles Audio Corporation is a 30-year-old company recognized as The First Name in Custom Installation(R). The company is a leading designer, manufacturer and marketer of audio/video custom installation products and accessories and is guided by its vision to be the world's leading provider of products and services that enable professional custom installers to design and install systems that delight their customers. To that end, Niles pursues a mission to provide solutions for end users which enable simple and easy access to home entertainment and that integrate seamlessly with other low voltage subsystems like lighting, Internet, security and HVAC in residential and light commercial environments. Niles conducts its business with a promise to treat its customers, employees, suppliers and stakeholders with fairness and respect and to foster teamwork, innovation and a commitment to be the best in everything it does.
Additional information may be obtained by contacting Mike Detmer at Niles Audio Corporation, 12331 SW 130th Street, Miami, FL 33186 (1-800-BUY-HIFI; ext. 197) or by visiting http://www.nilesaudio.com.
Niles, The First Name In Custom Installation, and Blending High Fidelity And Architecture are registered trademarks of Niles Audio Corporation in the United States and/or other countries. All other trademarks are property of their respective owners.