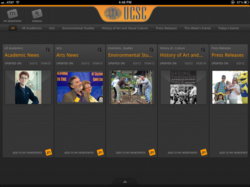 nūzmūz's topical approach and white-label approach allows enterprises and organizations to create their own multichannel news apps
Santa Cruz, CA (PRWEB) May 10, 2012
Nimbleware Consulting today announced the release of a new topic-based information app for the Apple iPad. Dubbed nūzmūz (http://www.nuzmuz.com), the app is an RSS feed reader that moves away from the source-based approach used by news and content aggregators. Instead, it focuses on user-defined topics, such as current events, career goals, or entertainment. The free app is available in the Apple iTunes App Store.
As a result, the app delivers results that much more emulates the way people want to receive information: according to their individual interests. Nūzmūz gathers relevant items from multiple sources—not limited to the editorial bias of an individual RSS feed source. To make it easier for users, a large selection of common Topics has been re-defined within the app. New Topics can be easily created to follow a current news story in more detail.
Each Topic is displayed in a customizable feed view or newspaper view for easy scanning by the user. Individual items may be shared via email or social networking.
The app allows users to create and customize Topics based on their individual interests.
Topical Approach and White-Label Approach Allows Enterprises, Organizations to Create Their Own Multichannel News Apps:
The free, generic version of nūzmūz is only the beginning, according to Hilton. Nimbleware can create branded versions for large companies, institutions, and government agencies—giving individual employees, customers, students, or other stakeholders ready access to important information on their tablet devices. In addition to the visual branding, pre-defined Topics can be created and administered via a secure Web interface. Constituents can still retain the ability to define their own Topics, at the company's or institution's discretion.
Nimbleware is discussing branded versions of nūzmūz with a wide variety of organizations, including financial and investment firms, as well as companies with a highly mobile sales force or customer base. Academic applications would allow colleges to convey critical information to students, while allowing them to create and share their own Topics.
"Access to current information has always been a critical part of any organization," said Nimbleware co-founder Mark Hilton. "Making tablets an effective mobile information gathering point can only improve each organization's effectiveness."
For more information on customized, branded versions of nūzmūz, contact Michael DeCaro, Michael(at)nimblewareconsulting(dot)com.
About Nimbleware Consulting
Founded by a team of former Adobe executives, Nimbleware Consulting develops and provides content creation, management and distribution solutions for a worldwide client base. The company is headquartered at 101 Cooper Street, Santa Cruz, CA. For information, please call (408) 505-9583, email info(at)nimblewareconsulting(dot)com, or visit the company Web site (http://www.nimblewareconsulting.com).