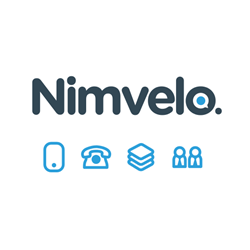 Businesses today are lowering infrastructure costs using VoIP instead of traditional landlines and new software tools which efficiently power remote teams.
Birmingham, UK (PRWEB UK) 27 June 2016
Nimvelo, creators of a flexible, Internet-based phone service, this month surveyed their start-up and SME (small and medium-sized enterprise) customers across the country to learn more about the drivers of remote businesses.

66% of UK SMEs surveyed are now using remote workers
70% reported savings of £10 or more each month by using a VoIP telephone system instead of traditional landlines
Cash-strapped entrepreneurs are investing more in their product than their infrastructure
The survey found that 66% of these companies were either operating remotely or employed remote staff. Technology and professional services companies were the most likely of all SMEs to work remotely, while healthcare and manufacturing companies were the least likely to have remote workforces.
Today's cash-strapped entrepreneurs are foregoing the cost of an office, phone and computer equipment, electricity, maintenance, etc. and putting those funds into building their teams and investing in their product or service.
"Infrastructure costs are becoming increasingly expensive for UK businesses," commented Charles Chance, Nimvelo Founder and Managing Director. "In our own start-up business, we've found that using remote software tools to establish remote ways of working has lowered our overheads and allowed us to invest more into improving the quality of our service."
What is spurring the office-less company trend?
Not surprisingly, business owners stated that not maintaining a physical office saves a significant amount of money. Seventy percent of respondents noted that they saved over £10 a month (with 40% saving closer to £20 a month) by using a VoIP (Voice over IP) telephone system instead of traditional landlines.
Entrepreneurs are avoiding the long-term commitments of traditional, and often costly, landline systems and opting instead for flexible, Internet-based phone services. These VoIP-enabled services can can connect a mobile phone, a computer, a tablet, or any other compatible handset over the Internet.
As a service specifically tailored for start-up businesses, the growth of Nimvelo's cloud-based phone system over the last five years may indicate that going remote is far from a passing trend.
Nimvelo's SME customers benefit from a flexible service with no long term commitment or contract and the system can be set up in minutes rather than weeks. Additionally, Nimvelo Phone's feature-rich platform allows customer add or remove features at any time without penalty.
About Nimvelo
Nimvelo is an Internet-based communications business that provides phone services specifically tailored for start-up businesses.
Nimvelo Phone's cloud-based phone system can connect a mobile phone, a computer, a tablet, or any other compatible handset and allows colleagues to talk to their customers as a team.
The company is continually inventing effective new ways of working and also operates in the reseller market, enabling other IT companies to offer the white label the phone service to their clients.
Nimvelo is based in Birmingham, UK, and was founded by Charles Chance in 2010. For more information, please visit http://www.nimvelo.com.