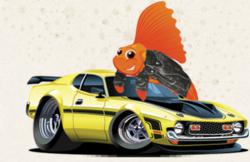 I'm actually not sure I can remember anything more sexual than that ever happening on 'Conan'!
New York, NY (PRWEB) May 11, 2012
RoadFish.com men's lifestyle and finance magazine today said that it was extremely grateful to "The Vampire Diaries'" Nina Dobrev for striking a sexy yoga move on "Conan" the other night. Dobrev used Conan as a human wall to aid her in the yoga position, which she referred to as "the Scorpion," that she performed mid-interview on Wednesday night's show. The show-stopping move made Conan shake his moneymaker around the set after Dobrev returned to a standing position.
The Washington Post's Jen Chaney reported that Dobrev was a guest on "Conan" on Wednesday night, and that she agreed to perform a yoga move after being asked to by O'Brien. Dobrev tells Conan that she needs his help, and instructs him to "stay straight," stating in the video that is posted on the site, "Usually you do this [move] in a yoga studio, and there is a wall. So I'm going to have to use you as my wall… Is that okay?" Conan obliged and the Dobrev got into position. The maneuver involved Dobrev standing on her elbows, flipping her feet up into and headstand and beyond, so that they were resting on Conan's chest, then tucked both feet in between Conan's legs near his crotch. After she had flipped back up to a standing position, Conan ran a lap around the set, throwing air-fists and proclaimed, "Best job in the world!"
As Dobrev got in position on her head on the floor, fellow guest Joel McHale stated, "This is AWESOME!" RoadFish.com happens to agree. RoadFish.com's Senior staff writer is quoted as saying, "I'm actually not sure I can remember anything more sexual than that ever happening on 'Conan'! It was pretty sexy. I was excited for Conan at first, but then I felt sort of bad because he was clearly pretty excited himself about being fondled by Dobrev's feet, and he's in front of all these people. Plus the guy's got a wife and two kids… not too sure Mrs. O'Brien is going to be thrilled to see another woman's feet in Conan's crotch."
The International Business Times ran an article stating that Conan had been "groped" by Dobrev's feet. The article reports that Dobrev's visit on "Conan" started innocently enough, with some chat about the Met Gala, a fashion event that Dobrev had attended earlier in the year in an extremely form-fitting dress. Dobrev stated that she had actually been sewn into the gown, which presented a true problem when she had to use the bathroom. She said that each time she used the restroom, she actually had to be sewn back into the dress. Dobrev then gave Conan a tutorial on how to hiss and behave like a vampire, when they get to discussing her role in "The Vampire Diaries." Not long after, Conan mentioned that he had hoped that Dobrev would perform a yoga move on the show, and the rest is history.
23-year-old Nina Dobrev was born in Bulgaria and raised in Canada. She left school in 2008 to pursue her acting career, which has since then taken off. She has acted in such films as "Fugitive Pieces," "Never Cry Werewolf," "Away from Her," and "The Perks of Being a Wallflower." Dobrev is perhaps best known for her dual role as Katherine Pierce and Elena Gilbert in the CW's "The Vampire Diaries."
About RoadFish
RoadFish.com is an online men's lifestyle and finance magazine targeted toward men in their 30s and 40s that have already attained a moderate level of success in life, and are striving toward more. It goes over current events of interest to this group, such things as exciting adventures, making money, consumer interests, hot chicks and the US housing market as well as ways to make more and save more money. It is a publication owned by Purpose Inc.