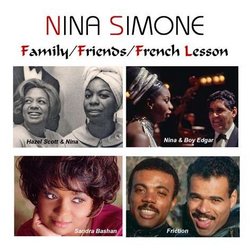 The recordings are mostly unknown and provide a rare opportunity for her worldwide audience to listen and appreciate.
Los Angeles, CA (PRWEB) December 10, 2009
Her name is synonymous with the passion, talent and raw emotion that she put into every note she sang and played – and now the "High Priestess of Soul", Nina Simone, is being celebrated on a new CD. Compiled by her former husband, Andy Stroud, the CD features never before heard tracks by Nina, duets with her friends, tracks by family and even a recording of Simone learning French. This newest CD embraces the amazing art and passion of Simone who composed many songs and recorded almost 60 albums during her lifetime. She was the first woman to win the Jazz Culture Award and was named the "Woman of the Year" 1966 Jazz at Home Club and the Female Jazz Singer of the Year, 1967 National Association of Television and Radio Announcers.
"The recordings are mostly unknown and provide a rare opportunity for her worldwide audience to listen and appreciate," says Stroud.
Simone and Stroud married in 1961, he became her manager and also wrote songs for her. A talented musician in his own right – Stroud played the trumpet while serving in the Navy during World War II and after with several well known orchestras. Stroud is credited with taking Simone to the next level as a recording artist. He produced her first solo concert at Carnegie Hall and produced her Billboard charted recordings, got national radio play for all her records culminating in her first European tour in 1965. The couple divorced in 1973 although Stroud briefly returned to manage her career from 1977 to 1978.
One of the highlights of this CD is a recording of "Nobody Wants You When You're Down and Out" performed by Simone and her good friend and fellow accomplished artist Hazel Scott. Scott is one of the world's most celebrated classically trained pianist and singers. Like Simone she studied at Julliard and appeared numerous times at New York's Carnegie Hall. During a visit Simone and Hazel were sipping wine, playing the piano, singing and chatting. That is when the recording was made and is filled with exclamations by Simone and chit chat after. This private recording is the only one ever made of the two together.
Another famous friend is also present on the CD – Boy Edgar, Holland's most famous jazz musician, pianist, trumpeter and composer. Simone and Edgar met in Amsterdam during one of her concerts at Holland's Carnegie Hall – the Concertgebouw and became fast friends. "It Don't Mean a Thing" is a classic performance of Duke Ellington's famous standard with Edgar and the Big Band backing up Simone.
Family is also present on this new CD with cousin, Sandra Bashan, who performs "Misty" and "Whatever Lola Wants". The love of music was deeply rooted in her family. Bashan's mother, Nadine, would play music every morning and claims that little Sandra was singing before she could talk.
Simone's musical styling also influenced Stroud's young sons, Andy Jr. and Renny, who as children would often sit and listen to her rehearse and write songs. In 1985 as an Army Captain at Ft. Carson, Colorado Andy Jr. teamed up with Sgt. Lillard "Maverick" Gaither and formed the group FRICTION along with Renny. Their popular song "Bar-B-Que is featured on the album as well as 2 other tracks.
This CD was truly a family affair with Scarlett Stroud, Andy's wife doing the photography and CD Cover Art.
Nina Simone –Family/Friends/French Lesson is being released by ASI and is available exclusively from Amazon.com.
Contact:
Kathleen Pierson, publicist
818-762-8353
###