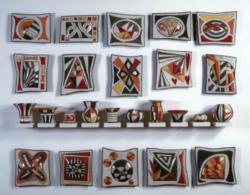 Ceramic Artist Nina Kellogg's new wedding gift line now featured on PartyPOP.com
Los Angeles,CA (PRWEB) June 25, 2012
Nina Kellogg, a renowned artist based in Los Angeles announced today the release of a new line of wedding gifts for newlyweds who love art. The new line consists of wall art made out of ceramic tiles, fired using a process called Raku. Nina Kellogg combines her wall art with a unique set of matching vessels, that are fired at a low temperature. The artist removes her red-hot glowing tiles and vessels from the hot kiln and allows them to cool in a container filled with combustible material. This gives her art pieces a one of a kind look.
Kellogg's clients have traditionally been Hollywood creatives such as actors, movie producers and TV directors as well as art collectors. Her new wedding gift pottery line is now available to a wider audience.
The artist finds her inspiration in her "other job". As a counseling psychologist Kellogg spends her time searching for the inner beauty in her clients and helping them to see it too. "Just as I listen to my clients, so do I listen to the clay." she says.
Nina Kellogg can be found at http://www.ninakellogg.com
About PartyPOP.com:
PartyPOP is the largest party, wedding and event planning online network.
Before the Internet era, the professionals at PartyPOP.com were successful hands-on party planners and special event producers. For more than a decade PartyPOP has translated 30 years of party planning experience onto the Internet. Millions of vendors are listed on the network consisting of 60+ websites and tens of millions of customers have used the network to plan their parties, weddings and events. PartyPOP.com also provides party and event related tips, themes and ideas, as well as a free full wedding planning software called Seating Arrangement.
About Free Printed Invitations by PartyPOP.com:
PartyPOP provides every bride and groom across the USA, Canada and the U.K. with free beautifully designed wedding invitations, printed on 80lbs card stock paper with matching envelopes and wedding website. Even door to door shipping is included at no cost. There are no hidden fees, no obligations to buy and no strings attached!