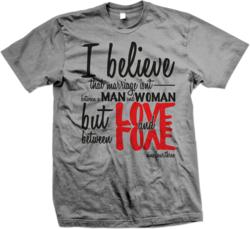 "We believe in equal rights for all and support everyone's individual choice to live their life as they see fit."
Washington, DC (PRWEB) July 10, 2012
nine.four.three LLC. releases the newest addition to its summer graphic t-shirt line. The shirt, inspired by Frank Ocean features his classic line "I believe that marriage isn't between a man and woman, but between love and love." nine.four.three creator and lead designer Evan Lee Marbury commented, "We believe in equal rights for all and support everyone's individual choice to live their life as they see fit," and created the shirt to lend his support.
Within the last few months many things have transpired in support of the LGBT community, starting with President Barack Obama voicing his support on gay marriage in America. Since then many influential figures have also come to the forefront and expressed their support or have decided to openly share their sexual orientation. This shirt is a reflection of our views on the topic and shows our support as a company. The quote is taken from "We All Try" a song by Frank Ocean, who just recently also decided to reveal he is a bisexual male, through a letter that he wrote to his fans on his personal "Tumblr" page.
Made from 100% cotton and screen-printed with water-based inks, the shirt will be available for order on July 16th and ready to ship on July 23rd.
nine.four.three LLC, is an apparel company that designs and distributes thought provoking t-shirts expressing the feelings and emotions of young, active, socially aware professionals. the designs utilize refreshing pop culture taglines and slogans that show the individuality and unique social values of the upwardly mobile young professional.
Each design on nine.four.three apparel is created with the utmost thought and integrity to ensure that it is easily understandable and clear. The printed message is usually derived from current events or topical social economic and political catchphrases. The first shirt released in the Summer Social line was the "My President Looks Like Me" tank top.This mixed with clever text treatments and creative colors enable. nine.four.three to capture a global audience.
Visit the nine.four.three. website today http://ninefourthree.bigcartel.com/
Contact 9ine4our3hree(at)gmail(dot)com for additional information on the brand, apparel, or partnership opportunities.