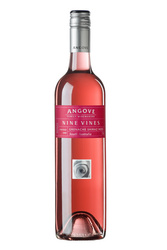 Saint Helena, CA (PRWEB) March 17, 2009
S.A., Australia -- The 2008 Nine Vines Rosé from Angove Family Winemakers, a Grenache-Shiraz beauty that garnered press praise and competition awards from the day it was released, is already sold out in Australia--but we have been holding the Rose for a spring release here in the US market and are fortunate it will be available across the nation starting this month.
The Nine Vines Rosé features a fresh, crisp palate with length and balance, and a range and intensity of fruit flavors and aromas that a drinker might suspect it's sweet--until the dry finish. This entry from Angove Family Winemakers is drier than most mass-market Australian rosés, more versatile with food, and more refreshing on a spring or summer afternoon. The Nine Vines Rosé has been a consistent performer for years, popular at home in Australia and highly regarded around the world, but the 2008 has been a true phenomenon.
Part of the secret undoubtedly lies in winemaker Tony Ingle and in his background working in Languedoc, the heartland of classic dry rosé production in France. Ingle brings that sensibility to Angove Family Winemakers, adds the twist of riper, sunnier Australian fruit, and delivers a wine that's both fruity and savory, both seductive as it hits the mouth and satisfying while the finish lingers. And all of this for a suggested retail price of $12.99.
The Australian wine press was absolutely smitten with the 2008 release, gaining from one prominent critic the ultimate Australian compliment, "Bloody Good." Now just a fond memory Down Under, the Nine Vines Rosé is debuting in the US market, one of the first 2008 rosés to make an entrance.
The wine retails for $12.99 and will be available in top wine shops and restaurants nationally.
Angove Family Winemakers (http://www.angoves.com), one of Australia's oldest family-owned wineries established in 1886 by Dr. William Thomas Angove, excels at crafting premium-quality wines by combining the time-honored winemaking methods of its forbearers with today's cutting-edge technology and innovative packaging. Located in South Australia, Angove award-winning wines appeal to oenophiles worldwide with a premium range offered in the U.S., including Vineyard Select, Nine Vines and Red Belly Black. Trinchero Family Estates is the U.S. importer of Angove Family Winemakers.
# # #