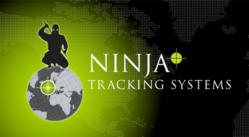 I am absolutely delighted, to my knowledge this has never been done before and means that for the first time shipping companies can now track cargo from point of origin to destination from the inside of the container
Colchester, Essex (PRWEB UK) 23 August 2012
After 3 months of testing UK based Ninja Tracking Systems have announced they have successfully GPS tracked shipping containers from the UK to worldwide ports and then on to the land based destinations using low cost GPS tracking devices. What is remarkable about this is that the GPS tracking has been done from inside the sealed containers which are normally classed as a 'Faraday Cage' for GPS signal transmission.
This has not been achieved before with an independently powered GPS tracker that is located inside a container without any container modifications for signal enhancement. The final test was a steel container that departed Southampton early July and landed at New York 9 days later before heading on to its destination stateside.
The advanced technology now utilised in this next generation of GPS tracking devices allows the signal to report back to a secure server allowing the user complete access to all tracking information. Shaun Parker from Ninja said "I am absolutely delighted, to my knowledge this has never been done before and means that for the first time shipping companies can now track cargo from point of origin to destination from the inside of the container".
The importance of this is that in a world where container crime is escalating alarmingly operators can tell if the container is tampered with at any point and even if the container is hijacked on route it can be tracked and traced. In fact even if the doors are opened at any point this will send that information back immediately to the operator who can then swiftly track live on a map and take appropriate action to safeguard the freight. All too often in the past containers reach destination minus valuable items and inventory.
The low cost of the Ninja solution means that protecting freight is a viable economic solution to the massive increase in organised container content stripping, this is especially good news for relocation companies. Currently relocation containers (where people are relocating to another country) often arrive at destinations minus high value items such as Plasma televisions and even cars and now there is a solution to help protect the cargo.
For more information on the test results and solution contact Shaun Parker at Ninja Tracking Systems.