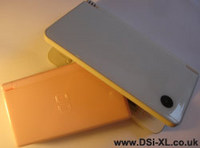 (PRWEB) February 1, 2010
Nintendo's DSi XL is set for European release on 5 March. Visitors to dsi-xl.co.uk have 2 chances to win the console.
For your first chance to win a console, simply leave a comment on the contest page of the dsi-xl.co.uk. Contestants can double their chances of success by following the steps on the website and becoming a fan of dsi-xl.co.uk on Facebook. Participants in the contest can increase their chances further by inviting their friends to join the contest. This contest closes on 28 February.
The prize in the second competition is a Japanese Nintendo DSi XL, which the winner will receive weeks before the official release date in their country. This contest is for fans that run websites, blogs or any other online community. Contestants register their website and encourage their visitors to vote for them through dsi-xl.co.uk. Not only does entering the competition give participants the chance to win a console, it provides exposure for their website. To take part, send an e-mail to contact(at)dsi-xl(dot)co(dot)uk stating that you wish to enter and provide your URL. This contest closes on 31 January.
The DSi XL, which includes all the features of its predecessors and boasts 93% larger screens, is set for release in Europe on 5 March. Both contests are open now. For full details of how you can win one of two Nintendo DSi XL consoles, go to dsi-xl.co.uk.
# # #