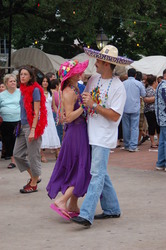 San Antonio, TX (Vocus) December 12, 2009
The San Antonio Conservation Society—one of the oldest and most active historic preservation organizations in the U.S.—is pleased to announce the dates in 2010 for its 62nd presentation of "A Night In Old San Antonio®" (NIOSA®): April 20-23, 2010, from 5:30 p.m. to 10:30 p.m. nightly during the city's 11-day Fiesta® celebration.
NIOSA® is a four-night event spread over five acres that celebrates San Antonio's diverse cultural heritage through food, music, games, decorations and dance for more than 80,000 revelers. Through the magic of more than 250 food, drink and atmosphere booths, more than 20 live musical acts, decorations, costumed volunteers, collectibles, party goers and cascarones, NIOSA brings the city's heritage alive in 15 areas (Arneson Theatre, Chinatown, Clown Alley, French Quarter, Froggy Bottom, Frontier Town, Haymarket, International Walkway, Irish Flat, Main Street USA, Mexican Market, Mission Trail, Sauerkraut Bend, South of the Border and Villa España). It is held on the grounds of the La Villita National Historic District–the 18th century Spanish neighborhood set on the banks of the San Antonio River in the heart of downtown San Antonio.
Nancy Hamner Avellar has been elected by the San Antonio Conservation Society as its Fourth Vice President, with the primary responsibility of chairing its "A Night In Old San Antonio®" celebration in 2010. She volunteers her time all year to plan and coordinate the four-night event, assisted by three appointed NIOSA vice chairmen—Evelyn Williams, Charlie Hansen and Roberto Hinkson—and NIOSA treasurer Kathy DeWaal (all of whom are volunteers and assist Avellar in leading the team of 16,000 volunteers that work at the event). As Society Fourth VP for 2009-2010, she also is chairman of NIOSITAs®—mini NIOSAs that are presented throughout the year for any private groups, including conventions and wedding receptions as another fundraiser for the Conservation Society.
A member of the Conservation Society since 1974 and a Board of Director since 1988, Avellar has been active in the volunteer efforts of the Society and of the various operational areas of NIOSA since joining. She served as the Society's Fifth Vice President overseeing the budget from 1993-1995, 1997-1999 and 2003-2005; and Society Treasurer from 1991-1993 and 1999-2001. For NIOSA she served as Treasurer from 2007-2009; and Anticuchos Booth Chairman from 1980-2000.
NIOSA is one of the top—if not the top—fundraisers for historic preservation in the nation and truly lives up to its motto as a "Celebration for Preservation." Funds raised from the event enable the San Antonio Conservation Society to continue its mission of preserving and encouraging the preservation of historic buildings, objects, places and customs relating to the history of Texas and all that is admirably distinctive to the state. Out of the roughly $1 million-plus in annual profits from NIOSA, the Society spends nearly a third of it supporting restoration and preservation of historic properties and parks throughout the city and neighboring counties, with more than $400,000 annually supporting education and advocacy programs and projects such as the Heritage Education tours, seminars, community tours, scholarships, the resource library and the house museums. Founded in 1924, the San Antonio Conservation Society began with efforts to preserve such unique features as the San Antonio River Bend (now the cornerstone of the famous San Antonio Riverwalk) and the city's four Spanish Colonial Missions (now the San Antonio Missions Historical Park), the San Antonio Conservation Society has been responsible for saving most of the historic attractions which now make San Antonio one of the top tourist destinations in Texas.
Information such as the following that gives the significance, food and entertainment in each of these 15 areas is available upon request:
Froggy Bottom: Many of the city's early African-American settlers migrated to San Antonio from the Froggy Bottom region of Louisiana in the mid-late 1800s. The Froggy Bottom name comes from a popular, local social club on the near East Side of downtown in the early part of the 20th century. This NIOSA area pays tribute to the cultural contributions of African-Americans and is influenced by their Southern hospitality, home cooking and roots in rhythm and blues music. A variety of southern foods are offered, including Fried Okra, Bongo-k-Bobs (beef shish-k-bobs named after Bongo Joe, a local musical legend), Mr. Chicken (skewered fried chicken), Mama's Bread Pudding and Wahooz (a malt beer beverage). Musical entertainment will be provided by talented R&B performers, Grateful Geezers.
WHEN: Tuesday through Friday, April 20-23, 2010, from 5:30 to 10:30 p.m. Even though the gates close and alcohol beverage sales stop at 10 p.m. nightly, food sales and entertainment continue until 10:30 p.m.
TICKETS: Tickets are sold at the NIOSA gates for $12 for adults and $2 for children six to 12 years, with free admission for children five years and under. Discount tickets are available online at http://www.niosa.org January 15 through April 9, 2010; visit the website for locations selling discount tickets.
INFO: Visit http://www.niosa.org or contact (210) 226-5188 or niosa(at)niosa(dot)org. For a visual snapshot of NIOSA, visit http://hotspotsofsa.com/adpage.aspx?adid=niosa2009
MEDIA: High resolution photos, recipes, B-roll and more detailed information on entertainment, food booths, history, proceeds and volunteers are available from Jeanne Albrecht, upon request at 210/496-6686 or jca(at)satx(dot)rr(dot)com. Complimentary NIOSA media credentials and interviews must be coordinated through Jeanne Albrecht.
# # #