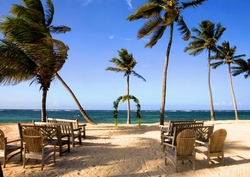 Nisbet Plantation's 30 tropical acres and beachfront location are the perfect setting for a destination wedding in the Caribbean.
Nevis, West Indies (PRWEB) March 9, 2010
Newlyweds can enjoy wedded bliss after a stress-free destination wedding with free nights at Nisbet Plantation now and on a future visit. It's Nisbet Plantation's Caribbean wedding gift and is only available through December 19, 2010.
After nuptials on the white sand beach or amid the stately Avenue of Palms, newlyweds staying seven nights will receive their wedding night free. Couples who honeymoon at Nisbet Plantation for 14 days will receive two nights free plus a complimentary private dining experience on the beach on the last night. In addition, all couples who say "I do" at Nisbet Plantation will receive a certificate for one night free to save on an anniversary trip or just their next visit.
Couples who book a spring or summer destination wedding, May 1 through August 13, at Nisbet Plantation by April 30, 2010 will also receive an additional night free. On a seven-night stay, the couple will pay for just five nights or pay for 11 nights on a 14 night stay.
Nisbet Plantation's 30 tropical acres and beachfront location are the perfect setting for a Caribbean wedding. An on-site wedding coordinator ensures all of the details are met for a memorable destination wedding. Packages begin at $1,795 and include pre-wedding massages for the bride and groom, flowers, wedding cake, photography services, license, registration and minister's fee, and more.
In celebration for each nuptial, Nisbet Plantation plants a coconut palm in the Avenue of Palms in the couple's name.
To book a destination wedding at Nisbet Plantation, call Nisbet's wedding coordinator at 869-469-9325 or speak to a travel agent.
For more information, visit http://www.NisbetPlantation.com.
About Nisbet Plantation
An intimate resort, Nisbet Plantation is the Caribbean's only resort plantation inn located directly on the beach. The 36 cottage-style accommodations set across 30 tropical acres on Nevis invite romance and privacy. Old-world Caribbean charm is blended with modern-day amenities such as Wi-Fi, hiker GPS, Flip video cameras and Vespa scooters. Nisbet Plantation's idyllic atmosphere, personal service and fine dining at the Great House, c. 1778, has made it one of the world's best resorts according to Condé Nast Traveler, Expedia® and TripAdvisor.com.
About Nevis
Located in the West Indies, the 36 square-mile Caribbean island of Nevis welcomes travelers with its charm and tranquility. Part of a two-island nation with St. Kitts, Nevis is hailed as one of the remaining unspoiled places on earth. The island's natural vegetation is unparalleled, from the 3,232-foot Nevis Peak to the depths of the clear waters offshore.
###