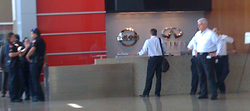 I was told at Nissan North America that skirts don't speak
Franklin, TN (PRWEB) July 15, 2010
Sharyn Bovat, the relocation consultant to NISSAN board member Carlos Tavares who moved to middle Tennessee from Japan in 2009, was arrested July 7th at the NISSAN North America headquarters (case # fpd2010-2508).
Bovat will appear in the Williamson County Court at 2pm Thursday July15th. Bovat says "I was taken to jail for retaliation of my whistleblowing."
CoolSprings.com interviewed Bovat two days ago; for the complete story on what she told Mr. Tavares and pictures from the day of her arrest, go to http://www.coolsprings.com.
# # #