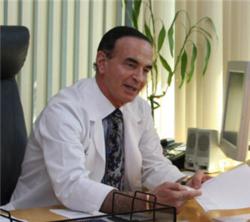 Paying attention to the anatomical markers in the skin and the skeleton helps assure that you send your patients home happy with no complications...
Irvine, California (PRWEB) February 22, 2012
Dr. Nissan Pilest, a veteran Board Certified Dermatologist with 33 years' experience, was recently invited to provide an educational workshop on the injectable products Restylane, Perlane and Dysport, offered by Medicis Pharmaceuticals.
All aesthetic physicians understand the benefit from continued education scenarios with their more established and experienced peers. No physician "knows it all", and the constant changes in the aesthetic market demands time and attention and shared knowledge.
Dermal fillers and neurotoxins are the primary means of today's true "no downtime" aesthetic enhancements. Restylane, the first FDA approved hyaluronic gel, remains a staple in most Dermatology practices and is increasingly being incorporated in the surgeons office and other non-derm practices. Restylane has become the first dermal filler approved by the FDA for use in the lips.
Dysport, a botulinum toxin approved to reduce wrinkles by inhibiting muscle contractions, was the second approved wrinkle relaxer after Botox.
Dr. Pilest's workshop covered Restylane and Dysport behavior, injectable areas, various injection techniques, handling unexpected outcomes and the importance of anatomy in both result and safety.
"It's easy to get too comfortable when you've not experienced an injection error," Dr. Pilest shared with our post workshop interviewer. "Paying attention to the anatomical markers in the skin and the skeleton helps assure that you send your patients home happy with no complications. There are of course factors outside our control that can cause transient problems such as bruising or swelling, but even bruising is becoming a thing of the past with the introduction of microcannulas."
Dr. Pilest has embraced the use of microcannulas as a delivery tool for dermal fillers. The tip of a cannula is smooth so the structures inside the skin that could be damaged are simply pushed out of the way. He shared that the patient experience is painless aside from a few areas that might sense pressure; and bruising is, thus far, nonexistent. Restylane and Perlane can be placed in the skin with the tiny microcannulas, but Dysport still requires the use of a needle.
Dr. Nissan Pilest is on the professional speaker panels for Medicis, Allergan and Merz and is a training physician for Candela and Fraxel lasers. His private practice, Total Dermatology, is a full service aesthetic and medical dermatology clinic.
Recently voted as President of the Dermatological Society of Orange County, Dr. Pilest is well known in the professional community and a highly respected active Assistant Professor of Dermatology at the University of California Irvine. He has been caring for Orange County patients since 1979.
Total Dermatology is located at 16100 Sand Canyon Avenue, Suite 190, Irvine, Ca. 92618. The practice website http://www.TotalDermatology.com is educationally focused to provide patients and site visitors with a comprehensive perspective on aesthetic and medical procedures. Phone contact (949) 727 3800
Medicis was voted one of the World's Most Ethical Companies for 2011. In addition, Medicis created the Passion to Heal initiative to bring specialized healthcare to those in need here and abroad.
# # #