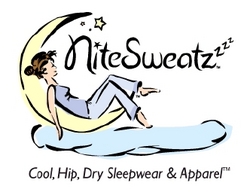 Why don't you just sleep in your running clothes which are made to wick moisture?
Atlanta, GA (PRWEB) March 4, 2008
Lesley Hatfield, a mother (to two year old Jack) and founder of Fitbreaks and NiteSweatz, followed her dream to have it all - a happy family life and successful professional career - and the world has taken notice.
When Hatfield was a child, she asked her mother for a Bermuda handbag - a pricy handbag for the time and out of the question for a single mother of three. So, Hatfield's mom gave her daughter something more valuable than any handbag, she taught her some basic business skills that would carry Hatfield through her successful entrepreneurial life. Find something people want and need, supply them and charge a premium. She also explained start up costs, loans and COG. Hatfiled was a natural and was soon selling salt water taffy at school to buy herself that Bermuda handbag.
Since then, Hatfield earned a degree in Exercise Physiology, practiced as a personal trainer and then started her first real business called Fitbreaks - 20 minute exercise sessions done in the corporate environment in business attire.
While training with a client one day, Hatfield learned that her client was suffering from hot flashes at night and wasn't able to sleep. Hatfield said, "Why don't you just sleep in your running clothes which are made to wick moisture?" It was Hatfield's AHA moment, and as a result, developed NiteSweatz.
NiteSweatz is a line of fashion-forward, thermo-regulating pajamas, daywear and intimates that wick moisture away from women's bodies making them more comfortable while sleeping, working and working out.
Hatfield followed her dream and now the world is taking notice. She has a feature article and full page photo in the March 2008 issue of Entrepreneur Magazine (attached) and CNBC highlighted her success on "The Big Idea with Donnie Deutsch," twice (visit NiteSweatz.com Press Page to view coverage). NiteSweatz has also been featured in O, The Oprah Magazine, twice (latest coverage attached)
How does she do it?

Multitasking with the help of technology - her Blackberry allows her to receive playground to the grocery store.
Delegating when possible - she uses a housekeeper and babysitter
At Home Office - allows her to stay connected to family while working
Rejuvenation - eats right and exercises to keep a clear mind and body, also uses playtime with son as exercise
Family Travel - brings husband and son on business trips when possible
Hatfield is proof that today, women can have it all - a healthy family life and great professional success. For more information on Lesley Hatfield and NiteSweatz, visit NiteSweatz.com or call 800-611-0069.
Contact: Suzanne Quinn/Glow Communications, 207-781-2598
###