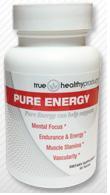 Cell Formula Pure Energy provides a natural nitric oxide pump and provides lasting mental clarity and energy for up to four hours.
Merritt Island, FL (PRWEB) May 15, 2012
Health and wellness company, True Healthy Products is now offering a new Nitric Oxide supplement for their Cell Formula product line to boost energy, virility, better nutrition and support lean muscle mass for men over 30. The new product, "Cell Formula Pure Energy" provides a natural nitric oxide pump and provides lasting mental clarity and energy for up to four hours.
The company offers two free reports on the new Cell Formula line, one describes how each component works and the other is a comprehensive nutritional eating guide, to download the reports visit: http://poweredbycellformula.info
"Pure Energy is by far the best energy supplement that I've come across. I usually have trouble sleeping at night because of the energy stuff that I would take early on in the day but with this one it lets you go at night and you can sleep comfortably with no side effects," says Dorsey Levens, Retired Super Bowl Champion.
According to the formulator for the company on their nitric oxide supplements, "This formula provides a steady rise in energy and a steady decline of energy. There is no crash! Along with the increase of steady energy, Pure Energy stimulates an increase of blood flow which weightlifters associate the tremendous pump they feel. Also, with the added intracellular electrolyte, athletes/fitness enthusiasts experience minimal cramping and longer more efficient workouts. Cell Formula Pure Energy is also used by those people who are not regular athletes/fitness enthusiasts. Corporate workers and business owners have found that Pure Energy not only gives them an energy boost, it also allows them to think clearly."
True Healthy Products is an all natural nutrition company dedicated to offering the best service and products for affordable prices with a wide range of products from healthy dark chocolate, weight loss programs, all natural sports nutrition products, skin care and whole food vitamin supplements.
To learn more about Nitric Oxide supplements and the Cell Formula all natural supplement line, visit the company's website at http://www.cellformula.com.
True Healthy Products
2460 N. Courtenay Pkwy, Unit #210
Merritt Island, FL 32953
888-400-2920
support(at)truehealthyproducts(dot)com
http://www.truehealthyproducts.com