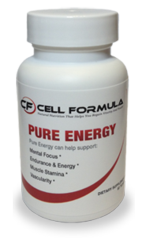 A new nitric oxide boosting supplement is now available from all natural health and wellness company, True Healthy Products, as part of new Cell Formula product line.
(PRWEB) March 28, 2012
True Healthy Products, LLC, has released a new product line called "Cell Formula" which features a potent but natural product, "Cell Formula - Pure Energy". Pure Energy is a nitric oxide boosting supplement that works in minutes to provide steady increased energy without the jitters associated with many stimulants.
A video interview with Dr. S. Geoffrey PHD, ND regarding the effects of the Pure Energy supplement and other products from the Cell Formula line is available here: http://www.cellformula.com/pure-energy
According to the company, Cell Formula's "Pure Energy" will naturally feed your body the nutrients to give you more energy with no sugars, no jitters and no crash.
"I've been trying energy products for the last 15 years. Pure Energy is by far the best that I've come across. I usually have trouble sleeping at night because of the energy stuff that I would take early on in the day, but with this one it lets you go at night and you can sleep comfortably
with no side effects," say Dorsey Levens, Retired Super Bowl Champion.
The "Cell Formula - Pure Energy" nitric oxide boost is available for athletes and for people that just need an energy boost. The steady, sustained energy from this product generally lasts for 2-4 hours.
In addition to releasing the new Cell Formula product line, True Healthy Products, has also added an all natural skin care line to their list of items, as well as several home remedies for many common ailments. For more information about the Cell Formula Pure Energy, or other truly good for you products, please visit the company's website at http://www.truehealthyproducts.com.
True Healthy Products, LLC
2460 N. Courtenay Pkwy, #210
Merritt Island, FL 32953
888-400-2920