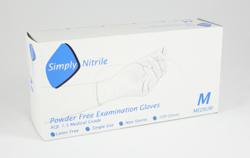 The market was calling for a cost effective non-latex glove
London, United Kingdom. (PRWEB) October 23, 2012
The Glove Club leading suppliers of medical grade disposable gloves have introduced a cost effective white nitrile glove to the market.
The Simply Powder Free White Nitrile Glove is super-thin however, it offers excellent elasticity, strength and tactile properties. The gloves are available in many sizes ranging from extra small to extra large and still maintains an level of AQL 1.5 (Medical grade). Each glove has finger texture to ensure the user has good grip both in wet and dry conditions.
About Glove Club Ltd
The Glove Club has been a manufacturer, wholesaler and distributor of medical grade disposable products since 1994. Its experience and expertise of supplying products to a wide range of customers makes it a cut above the rest. In its 18 extensive years of business they have been a leader in latex, nitrile and vinyl gloves, all made to a medical grade (AQL 1.5) and many everyday disposables like masks, paper towels and aprons. They supply to dental practices, nursing homes, funeral directors, veterinaries, hospitals, GP's and even the general public.
Users of disposable consumables can contact The Glove Club on 0500 456 832 or by accessing the new website at http://www.gloveclub.co.uk.
Manoj Parmar, Marketing Manager
Glove Club Ltd
+44 208 991 4303