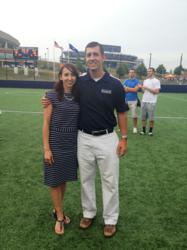 ...the single largest fundraising event in the world dedicated to the rare disease.
State College, Penn. (PRWEB) July 17, 2012
Held at the Penn State lacrosse field, the event matched the offense and defense in a variety of strength drill competitions.
Mike Farrell, a senior offensive tackle, is president of the Penn State Lift for Life chapter and coordinated with team mates to organize the annual event.
Lift for Life, now in its tenth year, raised $110,374 for the international kidney cancer charity, and it is the single largest fundraising event in the world dedicated to the rare disease.
"Lift for Life helps thousands of families whose lives are touched each year by this deadly cancer," said Carrie Konoksy, Kidney Cancer Association Vice President, a Penn State grad, who attended the event. "This clearly demonstrates the commitment of the Nittany Lions to helping people affected by cancer. The football team plays a key role in raising funds that will one day lead to a cure for kidney cancer, while the Kidney Cancer Association continues to educate patients and physicians, and serves as an advocate on behalf of families that are dealing with the disease."
Bill Bro, Kidney Cancer Association CEO, said, "The continued support of Penn State Football is essential to our charity's ability to help patients who are living with renal cancers. Seldom does one find this level of commitment to a cause by student athletes. We applaud this effort, especially in challenging times."
The Association was founded in 1990 by a small group of patients, including Eugene P. Schonfeld, Ph.D., and medical doctors in Chicago, Illinois. It is a nonprofit charity incorporated in the State of Illinois. It has also been designated as a tax exempt organization under Section 501(c)(3) of the U.S. Internal Revenue Service code. Donations to the Association are tax deductible.