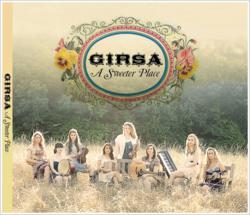 When the opportunity to shoot a CD cover for a band presented itself, I jumped! - High! - I am extremely pleased to present my first CD cover…"A Sweeter Place" by Girsa
Pearl River, NY (PRWEB) July 20, 2011
Anyone who knows Christine, knows what a deep fervor she has for music. Prior to Christine's current profession and passion of being a children's portrait photographer in the NJ & NYC area, and prior to having her own family, one of Christine's first photography gigs was shooting live concerts in NYC. For Christine there was no better match: photography and live music. Upon reflection of this time of her life Christine says, "Live music has always fed my soul and being able to shoot a wide array of concert photography in New York City in the late 90′s was an indescribable thrill. When my kids came along, I thought the better of running off to concert halls after dinner, so that career fell to the wayside and was replaced by children & newborn portraiture ~ as much a thrill for me as music."
So last summer when the band manager of Girsa, an all woman octet that plays traditional Irish music, contacted Christine about shooting the bands next CD cover, Christine jumped at the chance. Although she had never heard any of the band's music nor met them in person, Christine knew that this was a job that she could not turn down, and upon description of the band she instinctively said yes and agreed to meet with them. Her instinct's could not have been more spot on, not only were the band members quite striking in appearance, eager and photogenic to work with, but they possessed great musical talent too.
Christine describes her experience with Girsa in this way: "Meet Girsa ~ eight beautiful and talented young women who play traditional Irish music. Fun, energetic and down to earth, they were a delight to work with. From our first concept meeting to the final session, these women were filled with enthusiasm and humor…and I love that! Not to mention, they didn't mind trudging through thigh-high wheat fields with their instruments in tow. But the best part for me was the impromptu jam session in the field while I was setting up my shots. Picture listening to the lively and joyful sounds of Irish music in a beautiful sun-kissed wheat field. Spectacular!"
The photo shoot could not have produced better results. The four photos that ultimately made Girsa's new album "A Sweeter Place" captures the band's true essence: eight girls who are energized by their music, and play it with a fervor, even in a wheatfield. Perhaps this fervor is why Girsa's music and Christine's photography proved to be such a great match.
For additional details about Girsa or to hear their music, please see their website: http://www.girsamusic.com/
Christine DeSavino Photography Company Info:
NJ & NYC Child Photograper Christine DeSavino specializes in the fine art of children's portrait photography. In her work, she focuses on the child, capturing the beauty and innocence of each stage in the child's journey. From the expecting mother to the newborn infant, from the precious baby to the determined toddler, from the curious child to the confident teen, her photography captures the unique qualities that children embody.
Christine has rapidly become a premier newborn and child photographer in the NYC & NJ area. A photo session with Christine can take place either within her client's home, in an outdoor setting, or in her portrait studio which is located in Bergen County, NJ. Christine is available for a session in the entire New York City (NYC), Northern New Jersey, Hudson Valley, and Long Beach Island (LBI) / Jersey Shore areas. Christine also loves to travel and is available for childrens photo sessions outside the NJ & NY areas. Please inquire.
Christine's Approach to Photographing Children in her Own Words:
"As a mother of two, it is my joy and my passion to photograph children. I love their natural curiosity, their innocence and spontaneity. Capturing these wonderful qualities in photographs is what makes my job so rewarding. My desire as a newborn and child portrait photographer is to capture the essence of your child. Whether it's a silly giggle or a thoughtful stare, I want to catch them being themselves. Time passes so quickly and before we know it our babies have grown on to the next stage. I want to give you a lasting memory of your child, by catching true moments in time. My approach is fun and relaxed, so my camera can capture your child being just who they are."
About Christine:
Christine's passion for photography began while she was traveling Europe. Visually, she was awe-struck and wanted to be sure to remember it all, but from her own point of view. As a result, she spent three wonderful years in Barcelona studying photography.
She met her husband years later in New York, where they were both working in the film industry. After having kids, Christine couldn't be away from them for a typical 12 hour film day. She wanted to raise her children yet continue her career. Children's portrait photography was a natural progression.
"I had no idea how much love I had inside of me, until I had my children," says Christine. "It's what I try to capture in my portraits – a love and reverence for this special stage of life called childhood. Starting a family is such an incredible time of life and I am thrilled every time I have the privilege of documenting it for someone – from the joy of holding your newborn, to the endearing preschool ages, to the we-can-rule-the-world attitude of pre-teens. It's all so amazing and passes by in a blink. I think it's important to have it documented so you can look back and never forget."
Company Contact:
Christine DeSavino Photography – Fine Art Children's Portraiture – NYC & NJ
Christine DeSavino – Photographer & Owner
David Harges – Business Manager & Owner
phone: 917-697-1835
website: http://www.christinedesavino.com
###