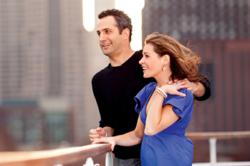 "I have attended 3 seminars to date and scheduled for another 2 already. This is the best way to meet the CLE requirement in a beautiful and relaxed atmosphere with some of the very best in the field giving the lectures."
- Anthony J. Randazzo, Esq.
Wayne, New Jersey (PRWEB) July 03, 2012
CLASS was created to provide a very convenient, cutting edge academic, interactive social and service base for discerning members of the Attorney, Judicial and related legal and business community. We are a luminescent and absolutely unique private company with CLE Provider Status in New Jersey, plus we provide concomitant Pennsylvania CLE credits. Our local seminar location is designed to minimize travel and thus the expenditure of an Attorney's most precious asset, his time, and our seminar subjects form the backbone and assorted, vital anatomical parts of that complex field known as LAW!
CLASS is proud to announce a historic and unique CLE Seminar that will take place on the evening of July 19, 2012. We will be conducting a Seminar aboard the beautiful and majestic "Spirit of New Jersey" cruise ship, which departs from the convenient and local Lincoln Harbor in Weehawken, New Jersey. This is a required New Jersey CLE Seminar entitled "Ethics II" which will commence at 6:30 p.m., with a boarding/registration time of 6:00 p.m. The Spirit of New Jersey will sail at 7:00 p.m. and return to the dock at 10:00 p.m. Our seminar will conclude at approximately 8:30 p.m. leaving you with plenty of time to enjoy the ambience and amenities of the ship.
Attend this seminar and receive two (2) CLE credits onboard the "Spirit of New Jersey," and experience the unique CLASS amenities including gourmet food, amusing movies clips, and an interactive seminar hosted by an attorney moderator. Come and make history with CLASS where you will enjoy the exciting New York skyline and cruising along the Hudson all while you earn your mandatory CLE credits!
General Ethics II CLE Seminar Information:
Credits: 2 CLE
Boarding: 6:00 p.m.
Seminar: 6:30 p.m. – 8:30 p.m.
Docking: 10:00 p.m.
Date: July 19th, 2012
Price:
Attorney: $225.00
Attorney + Guest*: $300.00
Any Additional Guest*: $90.00
Group Pricing:
2-4 Attorneys: $200/each
5 or more: $175/each
To register for this Special NJ CLE Event:
Please give us a call: 201-500-7529
Fax the registration form found on our website: 866-658-1662
Visit us online at: http://www.NJLawCLASS.com