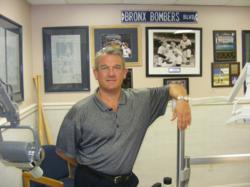 Dr. Lembo is spreading the word about their new implants for supported dentures and implants for supported crowns, which have been unofficially named the "steak eating replacements for lost teeth".
Haledon, NJ (PRWEB) January 15, 2013
Recently, Dr. Lembo (http://www.belmontassociatesnj.com) closed out the past year by introducing therapy dogs during their sessions to help reduce common fears and anxiety commonly associated with dentists. It was the first dental practice in the tri-state area to introduce this groundbreaking method of calming and soothing their patients, which has since found success throughout many of their procedures. As the New Year begins, Dr. Lembo and his practice are now looking forward to greatly improve the overall dental health of senior citizens.
Periodontal disease has become one of the most painful and common afflictions for many seniors in the tri-state area. Once considered incurable, this disease would often leave many without any functioning teeth. Fortunately, advancements have been made in the modern age of dentistry to combat periodontal disease and its painful side effects. To get their campaign a head start, Dr. Lembo has brought specialist Dr. Michael Jaffin on staff, who has several years of experience , along with intensive Post Graduate training, and Board Certification, in treating periodontal disease and surgically placing dental implants. Belmont Dental's marketing partner, Route 72, is pleased with Dr. Lembo's new addition to his staff and welcome his aggressive campaign to help senior citizens. Jim Alamia, CEO and Founder of Route 72 Systems states: "We are confident that Dr. Lembo and his new specialist, Dr. Jaffin will improve the quality of life for many of their senior citizen patients. We are confident that their fight against periodontal disease will further advance their practice throughout the online market."
Dr. Lembo will be teaming up with Route 72 Systems to spread the word about their new implants for supported dentures and implants for supported crowns, which have been unofficially named the "steak eating replacements for lost teeth." Dr. Lembo states: "Today, periodontal disease is treatable and preventable and it is important for seniors to take advantage of dentistry and our technology for their own comfort and wellness. We believe our passion for patient care and our extensive experience with senior patients will give our campaign a step in the right direction."
New patients or family members of seniors can call Belmont Dental to schedule an appointment: 973-790-4494
Address: 476 Belmont Ave, Haledon, NJ 07508