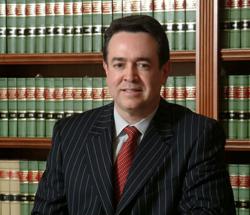 They are called 'never events' for a reason. The medical community must find out why so many of these mistakes happen and take steps to make sure they do not happen again.
Newark, NJ (PRWEB) February 02, 2013
Surgeons and other medical practitioners are making too many preventable errors in American hospitals that result in injuries and deaths, Joseph A. Ginarte, a medical malpractice attorney in New York and New Jersey, said today in response to a recently released report on the frequency of surgical errors.
"Everyone makes mistakes. But a new study shows that surgeons are making preventable mistakes thousands of times each year," said Ginarte, founder of Ginarte O'Dwyer Gonzalez Gallardo & Winograd, a medical malpractice and personal injury law firm. "Surgeons and the medical profession as a whole must get serious about reducing medical errors to prevent the kind of injuries and deaths that ruin families' lives."
Ginarte was referring to a study recently released by Johns Hopkins researchers that estimates surgeons make about 4,000 serious errors, referred to as "never events," at least 4,000 times per year -- 80,000 between 1990 and 2010. Never events are defined as "occurrences for which there is universal professional agreement that they should never happen during surgery." Such events include operating on the wrong body part or leaving surgical tools inside a patient's body.
The study, reported online in the journal Surgery, estimates that 39 times each week a doctor in the United States leaves a foreign object, such as a sponge or a towel, inside a patient's body after surgery. The wrong procedure is performed on patients 20 times a week, and surgeons operate on the wrong body site 20 times.
"This is simply inexcusable," Ginarte said. "They are called 'never events' for a reason. The medical community must find out why so many of these mistakes happen and take steps to make sure they do not happen again."
Researchers used the National Practitioner Data Bank (NPDB), a federal repository of medical malpractice claims, to identify malpractice settlements and judgments related to never events. They identified 9,744 paid malpractice judgments and claims over 20 years, with payments totaling $1.3 billion. Death occurred in 6.6 percent of these patients, with 32.9 percent experiencing permanent injury and 59.2 percent injured temporarily.
The researchers then used published rates of surgical adverse events resulting in a malpractice claim, estimating that 4,044 surgical never events occur in the United States each year.
"One death or one injury from these surgical mistakes is one too many. This is so senseless and preventable," Ginarte said. "These statistics are startling, and these are just the ones we know about from this particular study."
Hospitals are required by law to report to the NPDB all never events that result in judgment or settlement. Study leader Marty Makary, M.D., M.P.H., an associate professor of surgery at the Johns Hopkins University School of Medicine, said in a press release that his team's estimates of never events are low because not all items left behind after surgery are discovered. Typically, they are found only when a patient has a surgical complication and efforts are made to find out why, according to Makary.
"This shows how important it is for hospitals to make sure safety procedures are tested and followed," Ginarte said. "Protocols such as checklists, counting surgical tools and using ink to mark surgery sites seem to be not enough. Hospitals should consider using new technology to make certain these never events truly never happen."
Ginarte encouraged victims of surgical errors to seek counsel from a qualified medical malpractice lawyer like those at his firm. "We take medical negligence and malpractice very seriously at our firm," he said. "We help victims get what they are entitled to under the law."
About Ginarte O'Dwyer Gonzalez Gallardo & Winograd, LLP
For more than 30 years, Ginarte O'Dwyer Gonzalez Gallardo & Winograd, LLP, has served the residents of the New Jersey and New York metro area. In addition to its general practice, the firm assists clients with legal claims arising from car accidents, truck accidents, motorcycle accidents, construction accidents, medical malpractice and other personal injury cases. The firm also represents clients in employment discrimination, Social Security Disability and workers' compensation matters. The Ginarte law firm features offices located in New York City, Newark, Elizabeth, Clifton, Union City and Perth Amboy. The firm's Newark office is located at 400 Market Street, Newark, NJ 07105 (local phone (973) 854-8400). The firm can assist Spanish-speaking and Portuguese-speaking clients. To learn more, call 1-888-GINARTE or use the firm's online contact form.