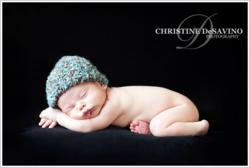 It always amazes me how much a baby can change in a matter of a few weeks. I love capturing these precious moments for Mom & Dad, and I take pride in knowing that these images will be treasured for years to come.
River Vale, NJ (PRWEB) May 09, 2011
NJ Newborn and Child Photographer, Christine DeSavino, adds an exciting new extension to her exquisite newborn photography by offering a unique way for parents to capture the momentous occasions of their baby's first year of life. Starting with a full newborn session, Christine will capture the endearing qualities of the precious first days of an infant's life with a full newborn session. This is followed by a portrait session at 6 months or near the time a baby begins to crawl. And finally a third full portrait session is performed when the baby is fully cruising, which usually happens around 12 months. Optional 3 month (when a baby holds their head up) or 9 month (when a baby begins to walk) mini-sessions can be added to the plan, as well as a maternity mini-session.
Not only is Christine's baby portrait plan extensive, but it also provides a cost saving way for parents to capture and celebrate this remarkable time of their child's life. To keep this plan affordable, each of the three portrait sessions have been discounted, and an additional $600 worth of credit towards albums and wall portraits have been built into the plan fee.
As an added bonus,the first 5 clients to book a session receive an additional $350 worth of goods! For complete details on this offering please see Christine's Child & Newborn Photography Blog.
Christine's love for photographing babies is evident in her beautiful newborn portraiture. But because this time is so fleeting, she sees how important it is to have a broader approach. In her own words, "Many of you who follow my photography know how much I adore newborn sessions….there's nothing more special to me than capturing the purity of a new little one. The first few days of an infant's life are so precious and endearing, but equally remarkable is the baby's entire first year. From holding up their head to rolling over, from beginning to crawl to walking and eventually cruising all over the house, a baby will grow more during this first year than any other time in their life. And it goes by so quickly… So to commemorate this treasured time, I've created a brand new plan that will capture and celebrate each milestone of a baby's first year."
Christine DeSavino Photography Company Info:
NJ & NYC Child Photograper Christine DeSavino specializes in the fine art of children's portrait photography. In her work, she focuses on the child, capturing the beauty and innocence of each stage in the child's journey. From the expecting mother to the newborn infant, from the precious baby to the determined toddler, from the curious child to the confident teen, her photography captures the unique qualities that children embody.
Christine has rapidly become a premier newborn and child photographer in the NYC & NJ area. A photo session with Christine can take place either within her client's home, in an outdoor setting, or in her portrait studio which is located in Bergen County, NJ. Christine is available for a session in the entire New York City (NYC), Northern New Jersey, Hudson Valley, and Long Beach Island (LBI) / Jersey Shore areas. Christine also loves to travel and is available for childrens photo sessions outside the NJ & NY areas. Please inquire.
Christine's Approach to Photographing Children in her Own Words:
"As a mother of two, it is my joy and my passion to photograph children. I love their natural curiosity, their innocence and spontaneity. Capturing these wonderful qualities in photographs is what makes my job so rewarding. My desire as a newborn and child portrait photographer is to capture the essence of your child. Whether it's a silly giggle or a thoughtful stare, I want to catch them being themselves. Time passes so quickly and before we know it our babies have grown on to the next stage. I want to give you a lasting memory of your child, by catching true moments in time. My approach is fun and relaxed, so my camera can capture your child being just who they are."
About Christine:
Christine's passion for photography began while she was traveling Europe. Visually, she was awe-struck and wanted to be sure to remember it all, but from her own point of view. As a result, she spent three wonderful years in Barcelona studying photography.
She met her husband years later in New York, where they were both working in the film industry. After having kids, Christine couldn't be away from them for a typical 12 hour film day. She wanted to raise her children yet continue her career. Children's portrait photography was a natural progression.
"I had no idea how much love I had inside of me, until I had my children," says Christine. "It's what I try to capture in my portraits - a love and reverence for this special stage of life called childhood. Starting a family is such an incredible time of life and I am thrilled every time I have the privilege of documenting it for someone - from the joy of holding your newborn, to the endearing preschool ages, to the we-can-rule-the-world attitude of pre-teens. It's all so amazing and passes by in a blink. I think it's important to have it documented so you can look back and never forget."
Company Contact:
Christine DeSavino Photography - Fine Art Children's Portraiture - NYC & NJ
Christine DeSavino - Photographer & Owner
David Harges - Business Manager & Owner
phone: 917-697-1835
website: christinedesavino.com
###