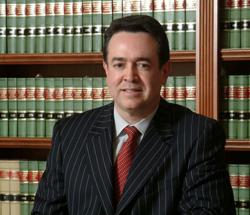 Throughout my career I have stood up for 'the little guy,' and it is rewarding to have my work celebrated like this.
Newark, N.J. (PRWEB) December 29, 2012
Joseph A. Ginarte, founder of the Newark, N.J., personal injury law firm of Ginarte O'Dwyer Gonzalez Gallardo & Winograd, has been included in the Top 100 Trial Lawyers for 2013 by the National Trial Lawyers.
"I am very honored to have this distinction bestowed on me by such an important and venerable organization," said Ginarte, whose practice is dedicated to securing compensation for seriously injured people. "Throughout my career I have stood up for 'the little guy,' and it is rewarding to have my work celebrated like this."
The Top 100 Trial Lawyers is an invitation-only list sponsored by The National Trial Lawyers, a professional organization of premier trial attorneys from across the country. Invitations to the Top 100 list are extended only to lawyers who "exemplify superior qualifications, trial results, leadership, influence, reputation, stature, and profile in the trial attorney community, as viewed by our organization, other trial lawyers, members of the bench and the public at large," according to the organization's website.
Lawyers invited to join the association must meet the necessary investigation and diligent evaluation of trial lawyers' qualifications.
"I am quite humbled to be recognized by my fellow trial lawyers to be a part of this prestigious association," Ginarte said. "I have always prided myself and our firm on the personal attention we give our clients, as well as the years of experience we have in the legal field."
Ginarte, who launched his legal career in 1982, has seen his practice grow into a full-service trial law firm with a steadily growing staff of lawyers and support personnel.
Ginarte attributes the success of his firm to a philosophy of hard work and commitment instilled in him by his parents when he was a boy growing up in Newark. Both of his parents worked in factories, and he also worked as a forklift operator in a factory while in college at Kean University. His working-class background drove him to seek a law degree at Rutgers School of Law so he could represent workers and make sure they get the benefits they are entitled to.
"My father was a factory worker, and I remember seeing him get injured and how it affected our family, especially since he was unable to return to work due to his injuries," Ginarte said.
Workplace-injury cases, especially construction accidents, have always been a big part of Ginarte's -- and the firm's -- practice. The firm has also achieved numerous large outcomes for injured plaintiffs in a variety of other areas, including products liability, civil rights and medical malpractice.
Ginarte has been an appointee to the New Jersey Supreme Court's Civil Practices Committee and is also a former president of the Hispanic Bar Association of New Jersey. He is licensed to practice in New York, New Jersey and Washington, D.C.
About Ginarte O'Dwyer Gonzalez Gallardo & Winograd
For more than 30 years, Ginarte O'Dwyer Gonzalez Gallardo & Winograd, LLP, has served the residents of the New Jersey and New York metro area. In addition to its general practice, the firm assists clients with legal claims arising from car accidents, truck accidents, motorcycle accidents, construction accidents, medical malpractice and other personal injury cases. The firm also represents clients in employment discrimination, Social Security Disability and workers' compensation matters. The Ginarte law firm features offices located in New York City, Newark, Elizabeth, Clifton, Union City and Perth Amboy. The firm's Newark office is located at 400 Market Street Newark, NJ 07105 (local phone (973) 854-8400). The firm can assist Spanish-speaking and Portuguese-speaking clients. To learn more, call 1-888-GINARTE or use the firm's online contact form.