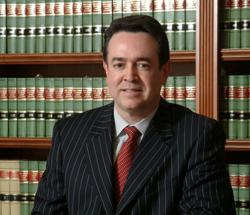 Under laws in New York and New Jersey, property owners and employers have a duty to ensure that the properties they own or control are safe.
Newark, N.J. (PRWEB) June 20, 2013
Property owners and employers must make sure their buildings are safe and do everything they can to prevent slips and falls, workplace accident lawyer Joseph A. Ginarte said today as he voiced support for National Safety Month.
"Slips and falls can result in horrific injuries and even death for workers and the public," said Ginarte, founder of Ginarte O'Dwyer Gonzalez Gallardo & Winograd, a personal injury law firm with offices in New York and New Jersey. "The majority of the time, these slips and falls are completely preventable if safety procedures are followed. We must make sure building owners, businesses and employers are doing what they should to keep people safe."
June is the National Safety Council's "National Safety Month," an annual event meant to educate and influence behaviors related to the leading causes of preventable injuries and deaths. This year's theme is "Safety Starts with Me."
"Campaigns like this one from the National Safety Council raise awareness of and show the importance of keeping buildings, workplaces and people safe," Ginarte said. "Our firm supports all efforts to educate the public, as well as property owners and companies that lease facilities, to prevent these types of accidents in the first place."
With National Safety Month, the National Safety Council aims to make people feel a personal responsibility not only for their own safety, but for the safety of their coworkers, family and friends. The goal is to create "a culture where there is a sense of ownership of safety by all."
National Safety Month has a different theme each week that calls attention to critical safety issues. One of the weekly themes is Preventing Slips, Trips and Falls. Falls are one of the leading causes of unintentional injuries in the United States, accounting for nearly 9 million visits to emergency rooms annually, according to the National Safety Council.
"At Ginarte O'Dwyer Gonzalez Gallardo & Winograd, we are dedicated to helping slip and fall injury accident victims, particularly those injured when visiting businesses or while working. These types of accidents are largely preventable," Ginarte said. "Under laws in New York and New Jersey, property owners and employers have a duty to ensure that the properties they own or control are safe."
The Occupational Safety and Health Administration has a number of tips for employers and property owners on how to prevent slips and falls, including:

Plan ahead to get jobs done safely, provide proper equipment when working from heights and train workers to use equipment properly.
Keep floors clean dry and clean up spills immediately.
Provide warning signs for wet floor areas and maintain drainage when wet processes are used.
Keep aisles and passageways clear and in good repair.
Use waterproof footgear to decrease fall/slip hazards.
Use only properly maintained ladders to reach items.
Eliminate uneven floor surfaces, and re-lay or stretch carpets that bulge or have become bunched to prevent tripping hazards.
Provide adequate lighting, especially at night.
Ginarte stressed that anyone hurt in a slip and fall due to a property owner or employer's failure to take these or other reasonable steps should make sure their rights are protected and learn about their legal options by contacting a qualified personal injury attorney like the ones at the Ginarte law firm.
"Accidents from slips and falls are covered by an area of the law called premises liability, which addresses injuries that someone suffers when he or she is on someone else's property," Ginarte said. "Our firm has extensive experience with premises liability and workplace accident cases. We are ready to evaluate your accident and help you get the compensation you deserve."
About Ginarte O'Dwyer Gonzalez Gallardo & Winograd, LLP
For more than 30 years, Ginarte O'Dwyer Gonzalez Gallardo & Winograd, LLP, has served the residents of the New Jersey and New York metro area. The firm assists clients with legal claims arising from car accidents, truck accidents, motorcycle accidents, construction accidents, medical malpractice and other personal injury cases. The firm also represents clients in employment discrimination, Social Security Disability and workers' compensation matters. The Ginarte law firm features offices located in New York City, Queens, Newark, Elizabeth, Clifton, Union City and Perth Amboy. The firm's Newark office is located at 400 Market Street, Newark, NJ 07105 (local phone (973) 854-8400). The firm can assist Spanish-speaking and Portuguese-speaking clients. To learn more, call 1-888-GINARTE or use the firm's online contact form.