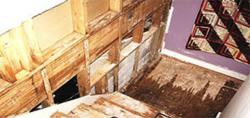 We were helping Hurricane Sandy victims in New York and DC last week and now we're ready to take on New Jersey
Hoboken, NJ (PRWEB) November 12, 2012
The bonded, insured and licensed water damage team of Elemental Disaster Relief traveled to New Jersey the weekend of November 9th to assist Hurricane Sandy victims with storm damage cleanup. Elemental Disaster Relief is a disaster restoration company that travels all along the east coast to help residential and commercial properties with wind damage, fire damage, water damage, storm damage and mold removal.
"We were helping Hurricane Sandy victims in New York and DC last week and now we're ready to take on New Jersey," says company owner Stephen Elliott. "Our plan is to hover around the northeast region until people no longer require our services."
The Elemental Disaster Relief team has over 18 years of experience in the restoration industry, repairing damaged structures after a disaster like a flood. The team is available 24 hours a day, 7 days a week with emergency response vehicles, fully equipped with de-humidification units, fans, water extractors and safety equipment so that people in need don't have to wait long to get professional help.
"If people with water damage wait too long to call us for help, other problems could arise," says Elliott. "For example, mold can start to grow and buildup in their homes, which could lead to illnesses. It's very important to pick up that phone and call us as soon as an elemental event has compromised a structure of any kind."
Certified by the Institute of Inspection, Cleaning and Restoration, Elemental Disaster Relief holds its restoration experts to a high degree when it comes to hard work and ethical behavior. In addition, the team works directly with insurance companies to provide quality service for every job performed. If you or someone you know has been affected by a storm of any kind, it's crucial to call before the damages worsen. To reach Elemental Disaster Relief, visit the website at http://www.elementaldisasterelief.com or call 1-800-764-4613 for immediate assistance.