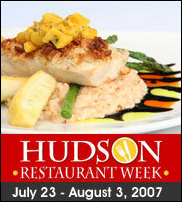 Hoboken, NJ (PRWEB) July 20, 2007
Hudson Restaurant Week is a great way to try amazing restaurants on the New Jersey waterfront while viewing the gorgeous New York City skyline. Starting July 23rd and running through August 3rd you can eat affordably at participating restaurants directly on the New Jersey waterfront like: 3Forty Grill, Quays, Trinity, C-Side, The Pointe, Liberty House and Komegashi Too. In addition to these restaurants, there are 22 more participating restaurants - for the most up-to-date list of restaurants and their menus visit: http://www.hudsonrestaurantweek.com.
The first week of Hudson Restaurant Week coincides with New York's but this side is the only one with the view. This is the 3rd year for Hudson Restaurant Week - this summer there is a new higher price point at some restaurants to account for rising prices of gas and food costs. Restaurants like Casa Dante, Amanda's, 3Forty Grill, Edwards Steakhouse, Liberty House, Porto Leggero and The Madison will be offering lunches for $18 and dinners for $35. New to the list include Carpe Diem in Hoboken and newly opened Park Avenue Bar & Grill in Union City and Soul Flavors in Jersey City. Returning restaurants include 95 Greene, Arthur's Tavern, Brass Rail, C-Side, Elysian Café, Honshu, Komegashi, Komegashi Too, The Merchant, Mercy Grill, Nine, O'Connell's, The Pointe, The Quays, Sushi Lounge, Texas Arizona and Trinity.
Hudson Restaurant Week is presented by 77 Hudson, a residential building under construction on the Jersey City waterfront. To celebrate the week and 77 Hudson's sponsorship, participating restaurants will be offering an exclusive drink called the Big Apple 77 Hudson Martini. In addition, 77 Hudson condos will feature luxurious top-of-the-line kitchen appliances by Bosch. Visit http://www.hudsonrestaurantweek.com for your chance to win a Bosch gourmet coffee machine (valued at $1200). Hudson Restaurant Week is produced by Get Out Hudson publications.
For more information visit http://www.hudsonrestaurantweek.com or call 201-388-6232.
About Hudson Restaurant Week
Hudson Restaurant Week is a bi-annual culinary celebration that promotes Hudson County as a premier dining destination in New Jersey. The event occurs during slow times of the year: January and July. It was created by Tamara Remedios of Get Out Hudson publications in 2005 through conversations with local restaurants. Get Out Hudson is a local magazine for Hoboken and Jersey City flaunting all the area has to offer.
###