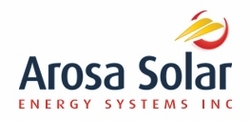 With this investment we can help this New Jersey school go solar and save over $55,000 a year and conserve almost 5,000 barrels of oil.
Lakewood, NJ (PRWEB) February 1, 2011
Arosa Solar, a NJ solar energy installation company, announces a new project at private school Bais Rivkah Rochel in Lakewood. The company will install a 300KW solar system for the religious all girls elementary school, and over the long term save the school thousands in energy costs. Bais Rivkah Rochel has close to 1000 students and the positive impact of this project will affect many more.
Arosa Energy helped the school qualify for a no interest loan to defray some of the cost to install the system. The project was made possible by a loan from the NJ EDA (New Jersey Economic Development Authority) under their CESCI Loan Program. The Clean Energy Solutions Capital Investment (CESCI) program is intended to emphasize in-state production of renewable and traditional energy sources and creating new jobs. Many have sought funding of green projects made possible through the program's 0% financing.
The loan involved an extensive application process. The program was so popular; the state stopped taking applications within days of opening. Now state budgets make it difficult to fund the program. Arosa Energy is proud to have been one of the handful of installation companies that had their project approved.
"We are proud to be one of the few that persevered to see this loan thru to its end. With this investment we can help this New Jersey school go solar and save over $55,000 a year and conserve almost 5,000 barrels of oil," said Shimmy Tessler, owner of Arosa Solar.
New Jersey is second only to California when it comes to the solar market. This is one of many New Jersey schools that have utilized solar energy. Arosa Solar installed a solar energy system at Bnos Bais Yaakov high school last year.
Most systems pay for themselves in four years or less, and then become an income source. Utility companies must buy SREC's (green tags/credits) produced. So in addition to saving money, companies earn credits (SREC's or Green Tags) for producing solar power. The credits are then purchased by New Jersey utility companies.
Arosa Energy notes that the project will help the school reduce costs over the long term, set a good example in the community, and reduce their carbon footprint.
About Arosa Energy
Arosa Solar http://www.ArosaEnergy.com is one of the leading suppliers and installers of PV systems in New Jersey, and is in business with leading companies in the PV industry with over 30 years experience in the field. Their company mission is to educate the public about the advantages and availability of alternative energy sources, and to deliver dependable solar energy to residents and businesses in the New Jersey area.
# # #