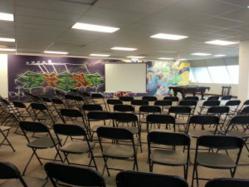 This panel will provide several different viewpoints on successful small business marketing tactics.
Wayne, NJ (PRWEB) April 30, 2013
The Ballantine Corporation, a New Jersey-based full-service direct mail company, has recently announced that Ryan Cote, Director of Marketing, will be speaking as part of a panel discussion at a New Jersey American Marketing Association (NJAMA) event on May 21, 2013 on the topic of THINK BIG/SHOP SMALL: Smart Marketing Strategies for Small Businesses. This event will be held at the Juice Tank Innovation Lab, 220 Davidson Avenue, Somerset, NJ from 6:00-8:00PM.
The panel will focus on how small businesses can make the most of constrained budgets and limited staff to maximize exposure for their business through creative yet effective strategies. The goal is to help marketers or owners of small businesses to get the biggest return on investment for their marketing dollar through actions such as content creation, search engine optimization, social media, public relations, and some potentially unexpected and unorthodox guerrilla marketing techniques.
Topics for the panel include overall marketing strategies, selecting the right marketing channels for exposure and conversion, taking advantages of online tools such as Google Search and Facebook, as well as other techniques to set a company apart from its competition. The panel will show how a successful marketing campaign combines traditional marketing strategies with online marketing to ensure their message is heard by their potential customers.
"This panel will provide several different viewpoints on successful small business marketing tactics," says Ryan Cote. "Ballantine's long background in both traditional and online marketing for our wide range of customers allows us to bring a lot of ideas to the table that have been shown to be successful in practice, as well as tailor suggestions for specific industries and markets."
The event will begin with registration at 6:00PM, the small business panel from 6:30-7:30PM, and Happy Hour and networking from 7:30-8:00PM. For more information and to register online for this event, please visit:
http://www.eventbrite.com/event/6308223065
About The Ballantine Corporation:
The Ballantine Corporation is a family-owned direct mail company established in 1966. Services include direct mail, creative, personalized URLs and QR codes. All clients benefit from a strong combination of quality work, aggressive pricing and full production support. Ballantine also has a digital marketing division, Ballantine Digital, that offers custom SEO and social media solutions.