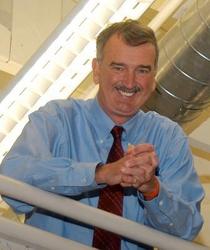 "Having a safe and decent place to call home is one of the most basic elements of stable communities," said Wayne T. Meyer, President of New Jersey Community Capital.
Trenton, NJ (PRWEB) March 19, 2011
New Jersey Community Capital (NJCC) recently received a $25,000 grant from the New Jersey Association of REALTORS® Housing Opportunity Foundation, Inc. to continue its neighborhood stabilization efforts throughout New Jersey, including the financing of affordable housing projects. New Jersey Community Capital—a New Jersey-based nonprofit lender —will use the grant money to leverage resources to promote the development and preservation of affordable housing in the State's most fragile neighborhoods.
The New Jersey Association of REALTORS® Housing Opportunity Foundation (NJARHOF) is a nonprofit charitable organization whose mission is to create more opportunities for homeownership in New Jersey. This latest award is part of a successful relationship between New Jersey Community Capital and the New Jersey Association of REALTORS® Housing Opportunity Foundation that began in 2004. Over the last seven years, NJARHOF has given New Jersey Community Capital nearly $270,000 in grants towards the construction and rehabilitation of hundreds of affordable housing units throughout the state.
One recent example of an NJCC project supported by NJARHOF funds is the redevelopment of the former F. Berg Hat Manufacturing Company site, an abandoned manufacturing site located in Orange, NJ. In fall 2010, NJCC worked with HANDS, Inc.—a community development corporation in Essex County, NJ—to convert the deteriorating vacant building into 39 condominium units and affordable commercial rental space for budding artists and local businesses. NJCC provided funding for predevelopment costs, which helped lay the groundwork, for what will soon become a mixed-income housing complex and artisan-based business incubator. This project will become a key anchor in the community, creating new jobs, fostering economic development and offering quality affordable housing options in the City of Orange, NJ.
"Having a safe and decent place to call home is one of the most basic elements of stable communities," said Wayne T. Meyer, President of New Jersey Community Capital. "The ongoing support of NJAR's Housing Opportunity Foundation has been critical to our neighborhood stabilization efforts and to helping provide quality affordable housing options. Together, we are helping to restore a healthy housing market by providing more New Jerseyans access to homes they can afford."
NJCC has a proven record of maximizing NJARHOF's contributions. By placing the money in its Affordable Housing Fund, NJCC is able to leverage the grant funds and provide financing to affordable housing developers that lack access to traditional financing options. NJCC offers these developers low-cost predevelopment and acquisition loans as well as higher risk forms of debt and equity financing to promote their high-impact housing developments. As the loans are repaid, the fund is able to recycle NJARHOF's grant money and invest in additional community development initiatives.
"NJARHOF's grant money is being applied to a variety of NJCC's affordable housing endeavors," continued Mr. Meyer. "It's currently playing a pivotal role in the development of supportive housing for residents with special needs, while also providing the means to acquire and rehabilitate foreclosed properties that are becoming sources of blight in their neighborhoods. The impact of NJARHOF's investment in New Jersey's underserved communities is substantial and far-reaching."
Currently, NJARHOF's grant is enabling NJCC to partner with Declarations, Inc.—a non-profit organization dedicated to providing support services to individuals with developmental disabilities and mental illness throughout New Jersey. NJCC is providing the financing for Declarations, Inc. to acquire five manufactured housing units in Eatontown, NJ and convert the units into supportive housing for nine low-income individuals with special needs. The converted housing units will allow these individuals to achieve their potential by providing a nurturing environment.
NJCC is also using the NJARHOF grant to further its comprehensive neighborhood stabilization strategies, which have been instrumental in restoring communities particularly hard hit by the mortgage and foreclosure crisis. As the lead financer of Operation Neighborhood Recovery, the nation's first bulk-mortgage purchase on foreclosed properties for the sole purpose of neighborhood stabilization, NJCC is at the cutting-edge of developing financial solutions to swiftly acquire vacant properties and return them to productive use. NJARHOF's previous grants made NJCC's investment in ONR possible and helped spur the creation of the Community Asset Preservation Corporation, an NJCC subsidiary that is working to expand the neighborhood stabilization activities begun by ONR. The NJARHOF grant is providing NJCC with resources to formalize its innovative stabilization model that includes property valuation, bulk purchasing, non-traditional financing and mixed-market property disposition.
"NJARHOF is proud of its long-standing partnership with New Jersey Community Capital," said Christina P. Clemans, president of the New Jersey Association of REALTORS® Housing Opportunity Foundation. "NJCC is a recognized leader in moving communities forward by providing the innovative financing needed to stabilize at-risk neighborhoods and provide more affordable housing options (possibilities) in New Jersey. The projects we have supported together are rebuilding neighborhoods by giving more families the opportunity to achieve the dream of affordable homeownership."
About New Jersey Community Capital:
Based in Trenton, New Jersey Community Capital (NJCC) is a 501(c)3 nonprofit, mission-driven lender that works to transform at-risk communities through strategic investments of capital and knowledge. The organization invests in affordable housing, community facilities, and economic development ventures that strengthen neighborhoods, improve education, and increase jobs – ultimately providing greater opportunities for the low-income residents in these communities. At the same time, it enables investors, financial institutions and grantors to meet their social investment goals.
New Jersey Community Capital is the trade name utilized by Community Loan Fund of New Jersey, Inc. and its affiliates for its financial and consulting products and services. The Community Loan Fund of New Jersey, Inc. is a Community Development Financial Institution (CDFI) certified by the U.S. Department of Treasury and the only one serving the entire State of New Jersey.
Since its founding in 1987, New Jersey Community Capital has made more than 720 loans totaling nearly $295 million helping to house, educate, train, and employ thousands of New Jerseyans. For more information, visit: http://www.newjerseycommunitycapital.org.
About The New Jersey Association of REALTORS® Housing Opportunity Foundation, Inc.
The New Jersey Association of REALTORS® Housing Opportunity Foundation, Inc. (NJARHOF) is a 501(c)(3) charitable organization that seeks to create greater homeownership opportunities for New Jersey residents. The Foundation raises funds for housing opportunity and distributes these funds to other 501 (c) (3) organizations throughout the state that provide home buyer education, develop public awareness and create affordable homeownership options for New Jerseyans. For more information, see this link: http://www.njar.com/about_njar/hof/about.html
###