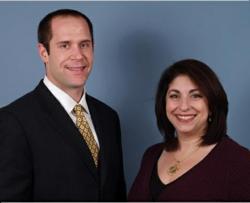 Older couples have some unique problems to face, with little time to recover from the aftermath of a divorce.
Red Bank, NJ (PRWEB) July 31, 2012
According to new research by sociologists Susan Brown and I-Fen Lin, professors at Bowling Green State University the number of over-50 divorces in 2030, based on current trends, could easily top 800,000 per year. The divorce rate has doubled in the past two decades, the highest level on record according to Brown and Lin's report called "The Gray Divorce Revolution." The paper draws on data from the 1990 U.S. Vital Statistics Report and the 2009 American Community Survey, administered by the U.S. Census Bureau. Only one in 10 people over 50 got divorced in 1990, but by 2009 that figure skyrocketed to one in four with more than 600,000 people over 50 getting divorced that year. A lot of those who are getting divorced, however, fail to see the complications caused by that divorce in today's economic landscape.
"The downturn in the economy, and the rise in divorces for couples over 50 have resulted in the "perfect storm," says Bryan Koslow, president of New Jersey Divorce Advisors, LLC. "Older couples have some unique problems to face, with little time to recover from the aftermath of a divorce."
"Divorce isn't just about dividing up assets," says Linda L. Piff, founder of the Center for Mediation and Collaborative Divorce. "Families are multi-dimensional. Divorce is about couples moving forward with their lives, and in order for that to happen, emotional, financial, personal and legal aspects must all be addressed."
That's why Koslow and Attorney Linda Piff are presenting a workshop called "Creative Options For Divorcing Couples Who Are Over 50," at this year's 13th Annual International Academy of Collaborative Professionals (IACP) Forum, October 18th—21st in Chicago, IL. IACP is the International Academy of Collaborative Professionals, an international community of legal, mental health and financial professionals working in concert to create client-centered processes for resolving conflict.
Some of the topics the two professionals will cover during their presentation include:

How to deal with real estate that may be "under water" (i.e., when the amount owed exceeds its fair market value)
Splitting retirement accounts including pensions that may be in "pay status"
Estate Planning - (i.e., what documents should be updated and how to plan when you no longer have access to the unlimited marital deduction)
Social Security planning
Medicare & other medical insurance
Life Insurance (older individuals may not qualify due to health issues or it may be cost prohibitive)
Employability for older divorcees may be an issue
Lack of ability to obtain a mortgage to purchase a new home- this may be due to a lack of income and/or due to tough lending guidelines these days
Alimony- retirement is often considered a "change in circumstances" that may result in a reduction or elimination of alimony
About NJDA
New Jersey Divorce Advisors, LLC is a financial consulting and planning firm specializing in the financial aspects of divorce. By analyzing the unique situation of each client, the firm structures equitable settlements and creates a plan for the client's future. The firm, founded by a Certified Public Accountant and Certified Financial Planner™, provides clients a comprehensive financial assessment that includes tax analysis, financial planning, retirement and estate planning, and insurance recommendations. The firm may be utilized in Divorce Mediation, Litigation, or Collaborative Divorce.
For more information about New Jersey Divorce Advisors, LLC please visit http://www.njdivorceadvisors.com.