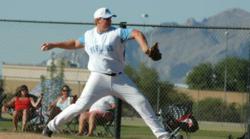 We are very thrilled and excited for Jonathan Gray! This is what the NJ Marlin's coaching staff aims for
Freehold, New Jersey (PRWEB) June 08, 2013
Jonathan Gray has been selected No. 3 overall by the Colorado Rockies in the 2013 MLB Draft. This announcement brought widespread excitement throughout the NJ Marlins organization, a leading travel baseball team that trains in New Jersey. Jonathan Gray played on the 2009 NJ Marlins Showcase Team prior to playing college ball at the University of Oklahoma.
Ed Graziano, president, NJ Marlins says, "We are very thrilled and excited for Jonathan Gray! This is what the NJ Marlin's coaching staff aims for—to train and guide each player so that they are ready to play competitive baseball and showcase their skills in front of college and professional scouts when the time is right. As one of the leading showcase baseball teams in New Jersey, our mission is to prepare players like Gray for advanced competition at the high school, college and professional levels, in this case the major leagues. As part of our 2009 travel baseball team, Gray played in various tournaments throughout the country and had the opportunity to showcase his skills in front of dozens of college coaches and scouts. Some of his other achievements include being drafted in previous years by the NY Yankees and KC Royals, 11th and 10th rounds respectively. As the No. 3 draft pick in 2013, Gray has done us proud yet again. Congratulations Jonathan!"
A junior at University of Oklahoma, Jonathan Gray was among the most eligible prospects for this season's MLB draft selection. His performance so far in 2013 has been steady. In 119 innings pitched this season, Gray posted a 1.59 ERA and recorded 138 strikeouts. However, these statistics are not the only reason why Jonathan was scooped in the first round by the Astros. One of the key skills that stands out and caught scouts' attention is Gray's high 90's velocity as a right-handed pitcher. His fastball is seen to top out at triple digits and "explode on hitters at the last second". He is also known for his "solid slider" and a "deadly changeup".
All the coaches and staff at the NJ Marlins join in congratulating Jonathan Gray on this spectacular achievement and wish him success in his MLB career.
#####
About NJ Marlins
The NJ Marlins aims to deliver elite caliber baseball coaching that prepares players mentally and physically to showcase themselves for college and professional level baseball. The NJ Marlins travel baseball program is considered to be one of the best run programs in New Jersey. The mission of this leading baseball coaching organization is to help young athletes become the best players they can be and to eventually help them get noticed by college scouts and coaches. The teams are well managed and expertly coached by experienced baseball instructors. A large number of NJ Marlins players have advanced to play for various colleges around the country.