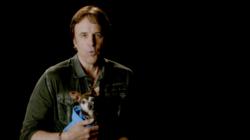 There are a lot of problems out there. Here is one you can do something about --- homeless pets. Let's make LA a no-kill city forever.
Los Angeles, CA (PRWEB) June 19, 2012
Poignant piano music lyrically frames cinematic close-ups of actor Kevin Nealon, who in his faux serious, dead-pan style, rattles off a series of farcical "problems' with no known cure: lazy ear, infantile baldness, backward baseball caps and doctors without underwear to name a few.
Then, he turns the corner and uses these "unfixable" issues to illustrate that the problem with homeless pets in Los Angeles is indeed fixable — that saving animals and making LA a no kill city is something we can do something about:
"There are a lot of problems out there," Nealon says. "Here is one you can do something about --- homeless pets. Go to NKLA.org to find out more about how you can help. Let's make LA a no-kill city forever."
(To view the public service announcement "Kevin Nealon for No-Kill Los Angeles" on YouTube go to: http://www.youtube.com/watch?v=_1NjpHJfd64.)
It's all part of NKLA a campaign of Best Friends Animal Society, which has as its goal to end the killing of animals in LA city shelters by 2017. NKLA billboards are all over Los Angeles, featuring the larger-than life faces of dogs and cats, flanked by the initials NKLA, an acronym for "No Kill Los Angeles." NKLA's goal is to stop the killing of approximately 17,000 animals that die in LA municipal shelters each year.
Nealon, still has that affable, dry sense of humor that captivated TV fans during his nine-year stint on "Saturday Night Live," his critically-acclaimed role on the Showtime series, "Weeds" and movies such as "Anger Management," "Joe Dirt," and the "Wedding Singer."
The Nealon spot, produced by the Los Angeles content group Let There Be Dragons, which is affiliated with the mega advertising agency TBWA\Chiat\Day, is the latest challenge to Los Angeles residents to bring about a time when killing dogs and cats in shelters is a thing of the past.
On April 17, Nealon, along with two-time Oscar winner Hilary Swank, and a host of other celebrities got together at the House of Blues to roll out the NKLA campaign, which includes a broad coalition of animal rescue groups and shelters led by Best Friends Animal Society and having strong support from Los Angeles Mayor Antonio Villaraigosa, the LA City Council, and LA City Animal Services General Manager Brenda Barnette.
Nealon's new PSA is part of a largely pro-bono advertising campaign by Let There Be Dragons, which features the oversized images alongside the graphically-edgy "NKLA" slogan and the logo of Best Friends Animal Society. The images appear at various locations throughout Los Angeles, some in the form of billboards and others appearing in electronic projections. Creative work on the campaign was spearheaded by advertising legend Lee Clow of TBWA\Chiat\Day and Let There Be Dragons developed the concept.
Through the collective work of the NKLA coalition, the NKLA's goals are to boost both adoptions and spay/neuter surgeries to reach a no-kill benchmark of 90 percent of all animals (or 100 percent of healthy or treatable animals) that come into LA shelters. The target is 3,000 adoptions and 6,000 spay/neuter surgeries to be completed this year.
Members of the local coalition include Found Animals Foundation, Kitten Rescue, Stray Cat Alliance, Downtown Dog Rescue, FixNation, Karma Rescue, and Best Friends.
Best Friends Animal Society will subsidize coalition partners for every pet adopted over the number adopted in the baseline reference year of 2010, as well as fund spay/neuter projects for pet owners who can't afford to have their pets fixed. Education about the importance of getting pets spayed and neutered is vital.
PRESS KIT: To access the press kit for the Kevin Nealon/Best Friends Animal Society public service announcement, please visit:
https://slingshot-us.mytbwa.com/af33b6ad1511dd0e7e61f8ac2e39dec2
(For security reasons, this link will expire in 7 days.)
About Best Friends Animal Society®
Best Friends Animal Society®, named Animal Welfare Non-Profit National Brand of the Year based on the 2012 Harris Poll EquiTrend® study, is a national animal welfare organization building no-kill programs and partnerships that will bring about a day when there are No More HomelessPets®. The society's leading initiatives in animal care and community programs are coordinated from its Kanab, Utah headquarters, the country's largest no-kill sanctuary. This work is made possible by the personal and financial support of a grassroots network of supporters and community partners across the nation. 
 
To become a fan of Best Friends Animal Society on Facebook go to: http://www.facebook.com/bestfriendsanimalsociety
Follow Best Friends on Twitter: http://twitter.com/BFAS