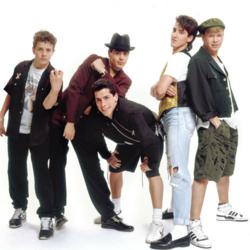 All of the NKOTB tour tickets available from this company have been verified for authenticity and priced to sell, says Andrea Pedersen at QueenBeeTickets.com.
Germantown, Wisconsin (PRWEB) February 04, 2013
NKOTB tour tickets were released for the group's summer 2013 shows on January 24. The official public on-sale will begin on January 24 for all performances except the show in St. Louis. St. Louis tickets will be released on February 9.
New Kids on the Block will be spending this summer touring North America with two other fabulous groups. They will be joined by 98 Degrees and Boyz II Men on an exciting tour that has been dubbed The Package Tour.
The package tour kicks off on May 31 in Ucasville, CT with a show at the Mohegan Sun. Before the tour ends on July 13 in Minneapolis, Minnesota, the groups will visit Boston, Pittsburgh, Nashville, Atlanta, Orlando, Dallas, Tacoma and other cities in the United States. Fans in Canada can purchase New Kids On The Block Tickets For Sale for three shows in Ottawa, Montreal and Toronto.
New Kids on the Block was originally formed in 1984 by Maurice Starr, a popular music producer. The group is made up of Donnie Wahlberg, Danny Wood, Jordan Knight, Jonathan Knight and Joey McIntyre. After performing together for 10 years, the band dissolved in 1994. However, they reunited in 2007 and have been been thrilling audiences at their live concerts ever since.
Tickets for New Kids on the Block this summer are a great value because fans get to see three of the most popular groups of the 1980s and 1990s at one performance. QueenBeeTickets.com is thrilled to offer Boyz II Men tickets and 98 Degrees tickets.
During 2011-12, New Kids on the Block toured with the popular boy band The Backstreet Boys. Ticket sales were favorable for those shows, and tickets are expected to sell even more quickly for this summer's highly anticipated tour. Visit QueenBeeTickets.com today to find some of the best prices on New Kids On The Block Tickets For Sale.
QueenBeeTickets.com works hard to save customers money on today's most popular live event tickets. The easy to use search feature helps fans locate the tickets they they want quickly. This popular company offers only genuine event tickets at some of the lowest prices that can be found on the Internet.