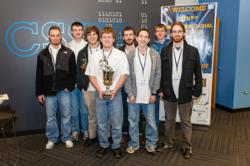 Effective cyber security is a critical area of need to most segments of our society
Highland Heights, KY (PRWEB) April 24, 2013
Northern Kentucky University's (NKU) Department of Computer Science in the College of Informatics has actively engaged students in an array of cyber security exercises in recent years. For example, in 2012 the Department's cyber defense team competed successfully in several national and international defensive and offensive computer security competitions such as Cyber Challenge 2012 and CSAW Cyber Security Competition and prevailed over many teams from well-known universities.
Security threats and breaches in cyberspace are commonplace. President Obama has noted the significant challenges of cyber threats and has linked the United States economic prosperity to its ability to provide cyber security that protects individual citizens and the country's organizations.
According to Dr. Kevin Kirby, Dean of the College of Informatics, "effective cyber security is a critical area of need to most segments of our society. You name it -- financial services, health care, transportation, to cite only a few sectors of our economy, and you realize computer science departments must prepare students to help thousands of organizations in protecting their networks and essential computing functions and information systems."
More recently on March 22 – 23, 2013, the NKU's cyber defense team competed in the US's largest region (Midwest) in terms of the number of teams. There were two rounds of competitions: state level competition (February) and regional (March). The Midwest region consists of 9 states which include Illinois, Indiana, Iowa, Kentucky, Michigan, Ohio, Minnesota, Missouri, and Wisconsin. NKU's students won 3rd place (with over forty-five teams) at this year's Midwest Collegiate Cyber Defense Competition in Chicago hosted by the Center for Systems Security and Information Assurance (CSSIA) at Moraine Valley Community College.
NKU's eight-member team prepared for competitions most Friday nights from September 2012 until the February and March 2013 events. The competition tested students' skills in defending computer and network systems. Students defended a corporate style network that was under sustained attack, while trying to accomplish business tasks. The performance of each team was based on how well the team defended the network and fixed system vulnerabilities, how well the team kept critical business services running under attacks, and how well the team finished business tasks.
The team utilized Griffin Hall's Hardware and Virtualization Labs to replicate the competition environment. The trainings culminated in a few intensive full-day simulation sessions. According to Dr. Hu, "these students were eager to learn and eager to compete. I am proud of their work ethic and success."
Computer security is a research strength for NKU's Computer Science Department. NKU's College of Informatics is in the process of applying for its designation as a National Center of Academic Excellence in Information Assurance Education (CAE/IAE), sponsored by National Security Agency and Homeland Security.
Northern Kentucky University is a university of nearly 16,000 students located seven miles southeast of Cincinnati in the quiet suburb of Highland Heights, Kentucky. The College of Informatics celebrated the opening of the $52.8 million Griffin Hall in the fall of 2011. Informatics unites the disciplines that confront the concept of information in today's world. The informational perspective provides new ways of thinking about traditional disciplines of communication, computer science and information technology to include Information flows in the global economy, information in cyberspace and cyber security, and the dynamics of social networks.
For more information, contact Dan Koabel at (859) 572-7927. Dan is the Director of Creative Technology for College of Informatics at Northern Kentucky University.