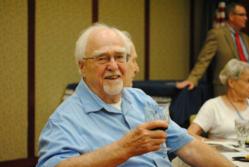 Rockville, MD (PRWEB) September 21, 2012
Doug Bly, a resident of The Village at Rockville (TVAR), A National Lutheran Community, was accepted into the 2013 Senior Leadership Montgomery program (SLM). Bly has lived at TVAR for 14 years and has served as President of its Resident Association for the past year and a half.
SLM is an exceptional course for individuals 55 or over, with leadership experience from the business, nonprofit or government sectors. Selected through a rigorous application process, chosen participants learn about the workings of Montgomery County through an intensive hands-on study. They will also explore the social and economic challenges facing Montgomery County through site visits, presentations and interactive dialogue. The program meets monthly from September until April 2013.
"This program will immerse Doug in the community, enabling him to discover opportunities to make a meaningful difference in Montgomery County and the wider area," TVAR's Director of Life Enrichment Jason Gottschalk said. "He will be able to network with a diverse group of seniors and, through these associations and the experiences of the course, gain a new perspective on the needs and strengths of the community. It is our hope that his experiences will spur other residents on toward greater community service."
Bly, who is already civic-minded, welcomes the opportunities to learn. "I'm excited about working with a diverse group of people to explore new ways of engaging and helping seniors in Montgomery County."
About The Village at Rockville (TVAR)
The Village at Rockville in Rockville, Md., is a CCRC (continuing care retirement community) that offers independent living, rehabilitation, respite, extended nursing care, hospice and coming soon, assisted living and memory support. For more info visit http://www.thevillageatrockville.org
About National Lutheran Communities & Services (NLCS)
Based in Rockville, Md., NLCS is a not-for-profit, faith-based ministry of the Evangelical Lutheran Church in America's (ELCA) Delaware-Maryland, Metropolitan Washington, D.C. and Virginia Synods serving people of all beliefs. NLCS provides seniors with a variety of lifestyle, residential and health care options through retirement communities in Maryland and Virginia. Other communities sponsored by NLCS include The Legacy at North Augusta in Staunton, Va., an independent living rental community offering assisted living services; The Village at Crystal Spring in Annapolis, Md., a new continuing care retirement community – subject to Maryland Department of Aging approval – which will serve as the centerpiece of a multi-generational residential and mixed-use project; The Village at Orchard Ridge in Winchester, Va., a new continuing care retirement community currently under construction opening in early 2013 with 178 maintenance-free independent living cottage homes and apartments with home-based services, memory care assisted living and nursing care options. For more information about any of our communities, visit http://www.nationallutheran.org
###