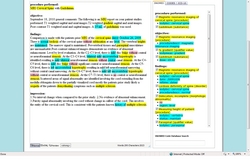 The MediSapien NLP Structured Reporting Module facilitates the capture, conversion, storage, and sharing of data in conjunction with RIS/PACS that require structured terminology for meaningful use, reporting, interoperability and health care analytics.
Hauppauge (PRWEB) November 29, 2010
ZyDoc, a technology leader in medical knowledge management and transcription since 1993, has announced the release of its new MediSapien NLP Structured Reporting Module , the latest module of the company's flagship ZyDoc Medical Knowledge Management Suite, at RSNA 2010. The MediSapien NLP Structured Reporting Module facilitates the capture, conversion, storage, and sharing of data in conjunction with RIS/PACS that require structured terminology for meaningful use, reporting, interoperability and health care analytics. MediSapien will be demonstrated by ZyDoc at the RSNA 96th Scientific and Annual Meeting, McCormick Place, Chicago, November 28-December 3, Booth 9526. A press conference announcing the official launch of the product will be held by ZyDoc at RSNA on Monday, November 29, 3:00 - 3:30pm.
MediSapien Benefits
MediSapien allows radiologists to continue using dictation as their preferred method of efficient data capture to generate rich narrative reports with no change in work habits. It also enables them to achieve important eligibility requirements for meaningful use incentives with structured terminology reporting. Simultaneously, the innovative MediSapien NLP technology transparently benefits imaging centers, hospitals, and their technology vendors by improving workflow efficiency, providing billing and coding data with RAC traceability, while facilitating interoperability of industry standard reports optimized for health care analytics.
Structured Terminologies
MediSapien NLP captures and converts unstructured text from all current industry-standard data sources to required medical terminologies for multi-function structured data usage. It utilizes natural language processing and various supplemental patent-pending technical steps to convert unstructured text to SNOMED-CT®, ICD-9, LOINC®, RxNorm, and other structured medical terminologies.
Data Sources
Using standardized export protocols, data sources of unstructured text include dictation, paper, electronic text, or DICOM, HIE and CDA unstructured documents can be converted into structured medical terminologies. The associated services allow immediate data extraction from unstructured text produced from new patient encounters, or from backend conversion of previously stored legacy documentation or older RIS (Radiology Information Systems) and PACS (Picture Archiving and Communications Systems), for insertion of text and structured data into new systems. Designed as a modular component application that works in conjunction with RIS and PACS, MediSapien can be delivered by either a HIPAA-compliant software-as-a-service (SaaS) model or on-site installation.
Structured Data Usage
MediSapien structured data is available online via MediSapien's browser independent web interface. The medical terminologies and reports are interoperable for multi-function structured data delivery to a data repository housed by the client, the client's technology provider, or MediSapien usage. Typical uses include: data insertion into RIS or PACS; transmission through an HIE (Health Information Exchange); import into coding and billing applications; or for health care analytic applications.
According to James M. Maisel, M.D., ZyDoc Chairman, "The health care industry is going through a highly complex transition. MediSapien NLP provides enabling services that perform various data conversion and storage functions that help satisfy current and longer-term transition needs. With the recent emergence of new standards and governmental requirements, the use of unstructured data will give way to an absolute need for structured data for interoperability. Standalone silos containing proprietary data types will be transformed by interoperability requirements to share data across multiple constituencies using common vocabularies and transfer protocols. Standardized terminology will power health care analytics, resulting in better outcomes at lower cost. ZyDoc has developed MediSapien to assist the providers of medical care, and the technology and vendor companies who support these medical care providers, in making this transition."
Prospective users for the MediSapien services include the following organizations: health care providers and their technology partners, medical transcription service organizations, EHR companies or resellers, RIS/ PACS companies, HIEs, billing companies and health care analytics companies. ZyDoc can partner with technology providers and integrators, medical data exchanges, and scanning companies to utilize the MediSapien services to support their constituencies. MediSapien offers services that enable clients to convert and store data in a variety of settings and situations. For an example of a MediSapien-powered solution, please see the accompanying illustration.
At RSNA, ZyDoc continues the rollout of its new Medical Knowledge Management Suite, featuring MediSapien NLP Structured Reporting and CAC modules, ZyDoc Clinical Data, and ZyDoc e-Transcription. The suite offers highly efficient integrated and standalone solutions for hospital environments, practice management, academic research, and strategic business analysis. An interactive demo of particular interest to radiologists and PACS/RIS/EHR vendors will be available for viewing at the ZyDoc booth to the press and to qualified industry representatives.
About ZyDoc
Based in New York, ZyDoc (http://www.ZyDoc.com) is a profitable medical knowledge management company that was founded in 1993 to develop medical informatics technologies. Almost ten years later, after producing and selling those technologies, the company entered the medical transcription space. The company offers a range of services, with its new MediSapien© product tailored specifically to assist ZyDoc clients and partners to meet the new standards and requirements that are transforming the health care industry.
ZyDoc leverages information technology to provide medical knowledge management solutions for health care providers, hospital systems, health information exchanges, and pharmaceutical research. Award-winning services by ZyDoc feature ASP applications, EHR integration, a HIPAA-compliant data interchange platform, and proprietary Continuous Quality Improvement. The user-friendly web-based technology platform is supported by the U.S.-based ZyDoc Operation Center, which is operational 24/7. ZyDoc has garnered recognition from the medical informatics, speech recognition, and software industries, and in 2004, was ranked third nationally in its market segment by the Medical Records Institute. In 2010, ZyDoc continues as an industry leader in the development of cutting-edge cloud-based technology for medical knowledge management leveraging NLP technology.
ZyDoc will complete its 2010 exhibition schedule at the New Jersey Technology Council HIE Summit in December. Details and ZyDoc exhibitor dates for upcoming conferences are available at http://www.zydoc.com.
# # #