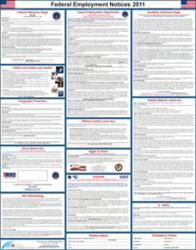 Please take notice that the posters will be changed and updated by November of 2011.
Los Angeles, California (PRWEB) September 09, 2011
State and Federal Poster Inc. updated the posters according to this rule and will be releasing the new posters once it takes place. All big businesses and companies are forced to follow this new law and will have to have new poster. These posters are important because it has to do with the employees and employers so please take notice. This new rule will take place on November of 2011 and will have to be updated before that date.
Changes on the poster will be located on the list of employee's rights under the National Labor Relations Act. The poster will include such rules as the right to join a union; engage in collective bargaining on wages, benefits, hours and working conditions; and go on strike. It will also notice that they will not be able to inform workers so they can "choose not to do any of these activities." It also informs workers that it's illegal for employers to prohibit them from talking about unions during non-work time and work time; take negative action against workers who support a union; or admonish to close the workplace if workers choose a union to support them.
###