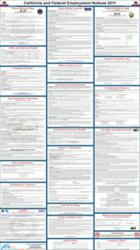 Required to have the new posters!
Los Angeles, California (PRWEB) September 22, 2011
State and Federal Poster Inc. carries all the new posters regarding the new rule for NLRA/ NLRB. Posters will have to be posted before fined a great amount of money. The National Labor Relations Board announced that it is effective to all most private employers and it will be required to notify employees of their rights under the National Labor Relations Act. The NLRB's final rule prescribes an 11x17-inch poster as the form of the notice, which will summarize employees' rights under the NLRA. The notice must be posted and maintained in open places, including all places where it notices to employees and are customarily posted. The rule requires a covered employer to post the notice on its internet or site if the employer customarily posts its personnel rules and policies there. As a practical matter, almost every private-sector employer in the USA falls under the NLRB's authority, regardless of whether its employees are unionized or not. Exceptions include agricultural, railroad and airline employers. In addition, the NLRB has indicated it will not apply to some very small employers. The final rule is in effect as of now.
###