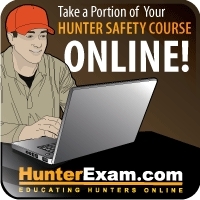 The goal is to get more young hunters involved in the sport
Albuquerque, NM (Vocus) May 5, 2010
The New Mexico Department of Game and Fish has launched the HunterExam.com course which allows students to take a portion of their hunter education course on the Internet before attending an Instructor-led Field Day where they complete training and pass final exams. A hunter education certificate is required for anyone under the age of 18 to purchase a firearm New Mexico Hunting License.
Mark Birkhauser, Hunter Education Coordinator for the NM Game & Fish, is enthusiastic about the new online program. "The goal is to get more young hunters involved in the sport," says Birkhauser, "With this online program DGF volunteer instructors will reach more students in less time, focusing on the hands-on topics with a greater emphasis on firearm safety."
The HunterExam.com New Mexico Online Hunter Safety Course offers professionally narrated course content, visual exam questions, as well as interactive exercises and animations (powered by HE Tools®). With a high level of interactivity, the course is designed to target all learning styles and has been found to be beneficial to students who experience learning disabilities.
"This course will be particularly helpful for younger students who want to learn about hunting safety," Says Birkhauser, "Children under 11 years old are not permitted to attend Field Days, however we will encourage them to take this course as the required 'homework' portion of the New Mexico Hunter Education Classroom Course."
"We commend the Game & Fish hunting program for implementing the online hunter education course," says Kerry Moher, V.P. Business Development, HunterExam.com, "Instead of taking a 15-hour classroom course over several days, students can learn about hunting safety on their own time and attend a single instructor-led session, which saves everyone time and money."
An industry leader dedicated to continuing education, HunterExam's course is available to anyone as a study guide. Students who use the Internet course as part of the Field Day or Homework requirement will purchase the HunterExam voucher for a one-time fee of $24.95, paid once the course has been successfully completed.
New Mexico is the 23rd state to adopt HunterExam's Online Hunter Education Course. Additional HunterExam resources include a Treestand Safety Course which meets guidelines set by the Treestand Manufacturer's Association, and three interactive online shooting ranges.
# # #